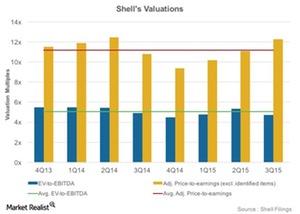 Analyzing Shell's Valuation and Its Historical Trend
By Maitali Ramkumar

Jan. 14 2016, Updated 3:05 p.m. ET
Shell's valuation trend
From 1Q13 to 3Q15, Royal Dutch Shell (RDS.A) has traded at an average adjusted PE (price-to-earnings) ratio of 11.2x, excluding identified items.
In 3Q15, Shell rechurned its business portfolio with asset sales, impairments, and write-offs. In the quarter, Shell reported a loss of $7.4 billion. Considering the loss in 3Q15, Shell's PE ratio skyrocketed from 13.4x in 2Q15 to 94.8x in 3Q15. But excluding identified items such as divestment gain-loss, redundancy, restructuring costs, and impairments, the company reported a profit of $1.8 billion. Shell's PE, excluding identified items, stood at 12.3x in 3Q15 compared to 11.1x in 2Q15.
Article continues below advertisement
In 2014, Shell's adjusted trailing 12-month EPS (earnings per share), excluding identified items, rose steeply compared to the increase in its stock price. This resulted in a fall in its PE ratio until 4Q14. But in 2015, the fall in EPS due to a decline in oil prices was much sharper than the decline in its share price. This resulted in a rise in its PE ratio.
Shell's PE multiple fell until 4Q14 and rose after that. On an overall basis, Shell's PE ratio, excluding identified items, has risen from 11.5x in 4Q13 to 12.3x in 3Q15.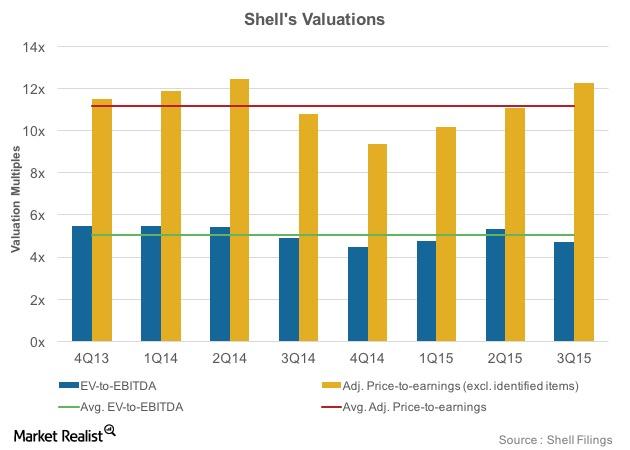 Shell's EV-to-EBITDA
From 4Q13 to 3Q15, Shell's EV-to-EBITDA (enterprise value to earnings before interest, tax, depreciation, and amortization) stood at an average of 5.1x. EV-to-EBITDA is affected by changes in EV as well as EBITDA. EV is broadly measured as market capitalization plus debt minus cash. It reflects the theoretical purchase value of the entire company. It's subject to market volatility. On the other hand, EBITDA is affected by a company's operating and financial performance.
The EV-to-EBITDA trend is similar to the PE trend explained above. The ratio fell from 5.5x in 4Q13 to 4.5x in 4Q14. This was followed by a rise in the ratio to 4.7x in 3Q15. On an overall basis, the ratio fell from 4Q13 to 3Q15.
Royal Dutch Shell (RDS.A) has taken firm steps in the recent past to sail through the low oil price phase. The company is also betting big on the expected merger with BG. With the sharp decline in share price, Shell looks attractive at current levels, if the proposed vision, plans, and goals are met.
Shell's peers Exxon Mobil (XOM), BP (BP), and Chevron (CVX) are also taking measures to combat the low crude oil environment. The SPDR S&P Oil & Gas Exploration & Production ETF (XOP) has XOM and CVX in its portfolio. The ETF has exposure of ~6% to integrated energy sector stocks.