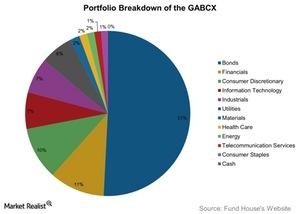 Analyzing Gabelli ABC Fund's Key Holdings
By Ivan Kading

Nov. 20 2020, Updated 1:18 p.m. ET
Multi-asset class
The Gabelli ABC Fund – Class AAA's (GABCX)(GABCX) portfolio mainly consists of corporate bonds, stocks, and government securities. It essentially follows a long (or buy) only, event-driven strategy to achieve its investment objective. The fund aims to generate a high risk-adjusted return with a minimal capital loss. The fund was managing total net assets worth $1.4 billion at the end of December. The fund's top ten holdings represent 46.4% of its total net assets. The graph below gives the breakdown of the Gabelli ABC Fund – Class AAA's (GABCX)(GABCX) portfolio.
Article continues below advertisement
Portfolio breakdown
Half of GABCX's assets are invested in corporate bonds and government companies like US Treasury bills. Major equity components of the fund include financials, consumer discretionary, and information technology stocks, among others. The top equity holdings of the fund include stocks such as Dealertrack Technologies (TRAK), Sigma-Aldrich (SIAL), Kythera Biopharmaceuticals (KYTH), PartnerRe (PRE), and Altera (ALTR).
Event-driven strategy
The fund's event-driven investment strategy aims to benefit from the price rise that often occurs when a merger or acquisition is announced between two or more firms. The fund's website explains, "If the Adviser, through extensive research, determines that the acquisition is likely to be consummated on schedule at the stated acquisition price, then the fund may purchase the selling company's securities, offering the Fund the possibility of generous returns relative to cash equivalents with a limited risk of excessive loss of capital."
The next article in the series gives a more detailed understanding of GABCX's investment strategy relative to the S&P 500 Index (VFINX).