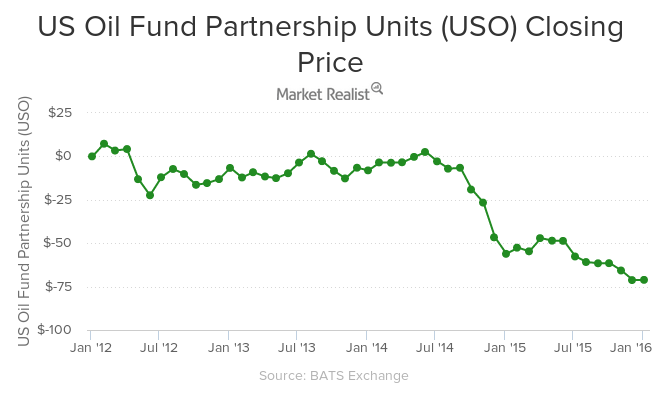 Crude Oil Might Inch Lower from the Current Levels
By Rabindra Samanta

Jan. 7 2016, Updated 11:55 a.m. ET
Crude might inch lower
Crude oil might inch lower from the current levels as of January 6, 2016. The reasons are future possibilities of diminishing demand from various segments. Aviation, road transport, and domestic heating requirements accounted for a significant amount of the crude oil demand. The fuel cell first generation car has already been launched. It's just a matter of time and technology before it's fully applicable to trucks and other large vehicles. Countries like India (INDY), China (FXI), and the US (SPY) have abundant sunshine. They might use solar panels to meet their domestic energy requirements. Solar energy could also be stored in a fuel cell for other requirements. India and China alone represents more than 28% of the world's population. The US is the biggest crude oil consumer.
[marketrealist-chart id=946951]
Article continues below advertisement
The aviation industry might be the only place where crude oil demand stays the same. In this series, we'll discuss the impact of renewable energy on crude oil. The destabilization in the Middle East might be related to the development of renewable energy technology across the world. We'll also discuss the moving averages and analysts' estimates for upstream and downstream companies like ConocoPhillips (COP), Tesoro (TSO), and EQT (EQT).
Crude oil and investments
To help investors understand how the crude oil market fell, the above graph shows how United States Oil (USO) performed in the last four years. In the next part, we'll discuss why prominent OPEC (Organization of the Petroleum Exporting Countries) nations like Iran and Saudi Arabia may not cut production.