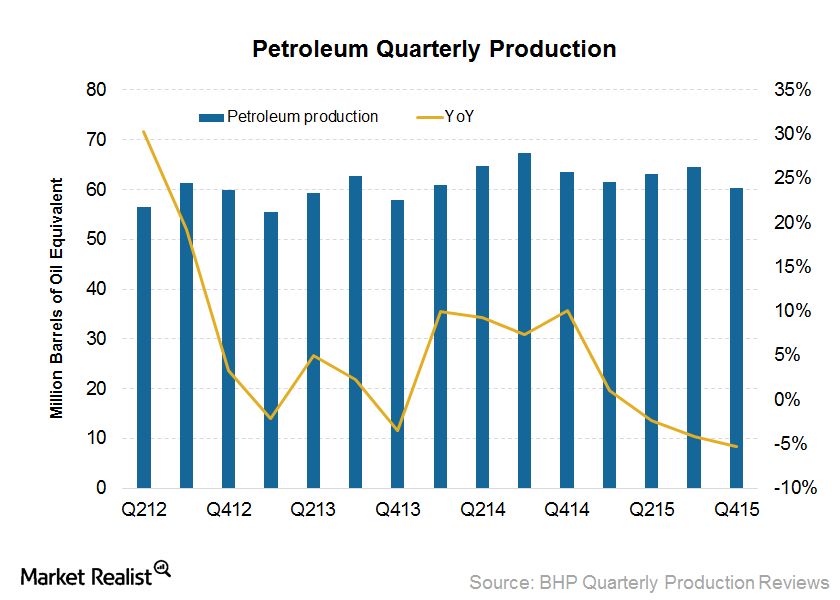 Analyzing BHP's Expectations from Petroleum in Fiscal 2016
By Anuradha Garg

Jan. 25 2016, Updated 8:07 a.m. ET
Petroleum volumes
The petroleum division is gaining increasing importance in BHP Billiton's (BHP) (BBL) overall product portfolio. The company's petroleum division contributed ~32% to its overall EBITDA (earnings before interest, tax, depreciation, and amortization) in fiscal 2015. The company's fiscal year ends on June 30.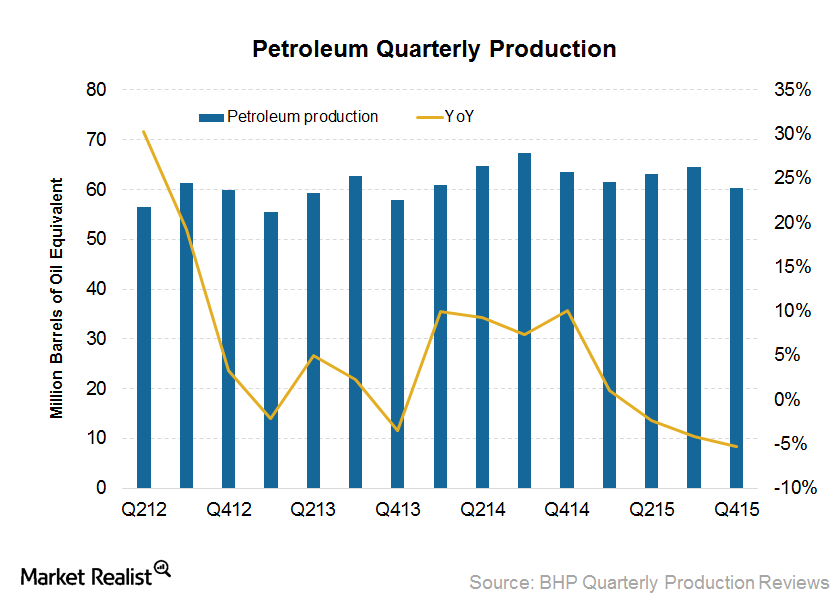 For investors interested in BHP and other oil companies such as Chevron (CVX), ExxonMobil (XOM), and Occidental Petroleum (OXY), petroleum volumes and outlook on production are the key variables to watch, apart from oil prices (USO). CVX, XOM, and OXY account for 36% of the Energy Select Sector SPDR ETF (XLE).
Article continues below advertisement
Fall in petroleum production
BHP's petroleum production fell by 5% YoY (year-over-year) to 124.7 MMboe (million barrels of oil equivalent) in fiscal 1H16. Here's a breakdown:
Crude oil, condensate, and natural gas liquids production fell by 3% YoY to 60.5 MMboe. Onshore liquids volume, on the other hand, rose by 8% YoY to 26.3 MMboe. The rise in production was due to the continued positive momentum in the Black Hawk and Permian fields. Liquids production rose by 9% and 78% YoY, respectively, at these two locations.
In BHP's conventional business, liquids production fell by 9% YoY, reflecting the impact of industrial action at Bass Strait and natural field decline across the portfolio.
Natural gas production also fell by 7% YoY to 386 bcf (billion cubic feet) due to lower onshore US gas volumes as management decided to defer development activity for longer-term value.
Production outlook
Despite weak production numbers, BHP Billiton maintained its petroleum production guidance of 237 MMboe for fiscal 2016. We should, however, take the following into account in our analysis:
This guidance implies a fall of 7% YoY. This is mainly because of BHP's lower planned capital investment across its operations. Management continues to defer the development of these assets for longer-term value.
Management expects conventional volumes to fall by ~4% YoY to 128 MMboe due to planned maintenance programs and natural field decline.
US Onshore guidance has been revised downward from 112 MMboe to 109 MMboe, while the overall petroleum guidance remains. This implies a change in the mix between shale and conventional petroleum.
BHP's management believes that the development of emerging economies will continue to drive demand for crude oil. It also believes that a new, higher-cost liquids supply will need to be in place as low-cost fields decline.
Continue to the next part to find out how much impairment BHP has taken on its US Onshore petroleum assets and how this could impact the company.