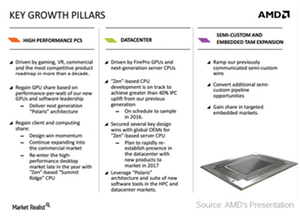 AMD Shares Fell on Weaker Guidance for Fiscal 1Q16
AMD shares fell on weaker guidance
So far, we've seen that Advanced Micro Devices' (AMD) earnings were hit by an overall weakness in the semiconductor market and strong competition from Intel (INTC) and Nvida (NVDA). This year could be a year of transition, with most semiconductor companies possibly investing in technology upgrades.
Like TSMC (TSM) and Intel, AMD also expects a slow start to fiscal 2016 as seasonal sales of PCs and game consoles fade away. However, AMD expects business to pick up in the second half of fiscal 2016, with the company returning to operating profitability.
Weaker guidance for fiscal 1Q16 saw AMD shares fall by more than 7% to $1.81 in the after-hours trading session on January 19, 2016. The stock is trading at the lower end of its 52-week range of $1.61–$3.37. Analysts have lowered the average price target for 12 months from $2.43 to $2.32.
Article continues below advertisement
Fiscal 1Q16 guidance
For fiscal 1Q16, AMD expects to report revenue in the range of $854.9–$916.7 million, down 14% from fiscal 4Q15, plus or minus 3%. The 3% range would be driven by seasonal demand in the game console market and China's (FXI) macro environment. Analysts expect the company to report revenue of $899 million in fiscal 1Q16.
Profitability 
On a non-GAAP (generally accepted accounting principles) basis, the company expects its gross margin to increase to 32% in fiscal 1Q16 from 30% in fiscal 4Q15. On the expense front, operating expense and interest expense are expected to reach ~$320 million and ~$42 million, respectively.
The company expects its cash reserves to fall by ~$100 million from the $785 million reserve reported in fiscal 4Q15. This estimate excludes the cash proceeds related to the joint venture with Nantong Fujitsu Microelectronics.
Article continues below advertisement
Fiscal 2016 guidance
For fiscal 2016, AMD expects its revenue to grow compared to fiscal 2015, but it did not state any numbers. Analysts expect the company to report revenue of $3.94 billion in fiscal 2016.
The company expects to maintain a cash reserve between $600 million and $1 billion and spend $70 million on capital expenditure. The company expects to generate positive free cash flows from operations in fiscal 2016.
Key growth pillars
AMD will target its resources on three growth pillars: high-performance PCs, data centers, and its Enterprise, Embedded, and Semi-Custom segment. It has developed Polaris and Zen architecture and is creating semi-custom chips for more diversified embedded applications.