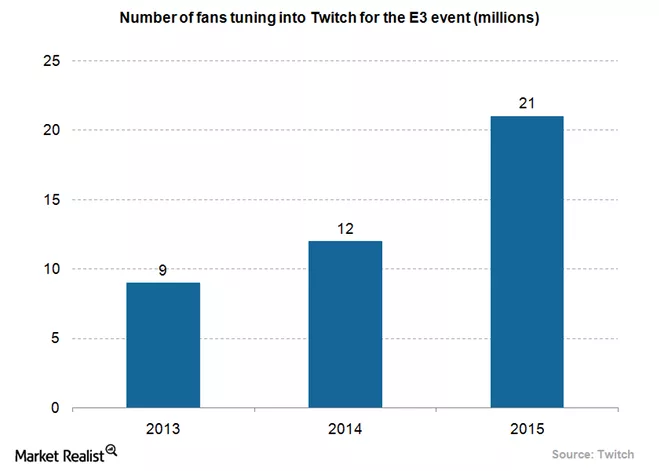 Amazon Entered Online Gaming Market with Acquisition of Twitch
By Adam Rogers

Jan. 7 2016, Updated 10:18 a.m. ET
Amazon acquired Twitch in 2014
As we've already seen in this series, Activision Blizzard (ATVI) is acquiring Major League Gaming (or MLG) to leverage the fast-growing streaming gaming market. Amazon (AMZN) entered this field in 2014 when it acquired Twitch, a popular website for video game enthusiasts. Twitch, founded in 2011, has grown at a rapid pace since then. At the end of 2014, it had more than 100 million monthly unique users. In 2015, it had 1.7 million unique broadcasters compared to 1.5 million in 2014.
Article continues below advertisement
According to Twitch, at the end of 3Q15, the amount of gaming content streamed live on Twitch was 7.5 billion minutes. The time spent watching videos on Twitch exceeded 16 billion minutes per month. Twitch has more than 12,000 partners, up from 10,000 in 2014. More than 58% of users spend more than 20 hours per week watching content on Twitch. Its viewership has grown more than 100% in India (EPI), the Middle East, Germany (EWG), Indonesia, Turkey, Italy, and Ireland in the last two years.
The average amount of time spent by users on the platform is approximately 1 hour and 46 minutes per day. Twitch broadcasts more than 11 million videos per month. Approximately 24% of Twitch viewers are located in the United States.
The growth of Twitch
When Amazon acquired Twitch in 2014 for $970 million, Twitch was the fifth largest video streaming website in the United States after Netflix, YouTube, Amazon, and Hulu. Alphabet (GOOGL) was also interested in acquiring Twitch.
According to Twitch.tv, the number of monthly unique visitors on its platform increased from 20 million in 2012 to 45 million in 2013 and 100 million in 2014, as you can see in the above graph. That's a CAGR (compounded annual growth rate) of more than 50% as gamers bought Microsoft's (MSFT) Xbox One and Sony's (SNE) PlayStation 4 with a built-in Twitch app (application).
In the next part of this series, we can see how Alphabet has been ramping up its efforts to compete with Twitch.