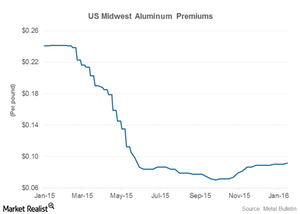 Aluminum Premiums Strengthen in US, Fall in Europe
By Mohit Oberoi, CFA

Jan. 29 2016, Updated 9:06 a.m. ET
Aluminum premiums around the globe
The all-in aluminum price consists of the aluminum price plus regional aluminum premiums. The aluminum premium is a surcharge that consumers must pay on top of the prevailing prices in order to take the immediate delivery of the metal from the warehouses. Alcoa (AA) sees physical aluminum premiums as a better reflection of the aluminum industry's dynamics than the aluminum prices. Aluminum premiums are regional in nature, so aluminum premiums in the United States are different from in Europe or Japan. Regional aluminum premiums are based on the demand and supply dynamics in the region.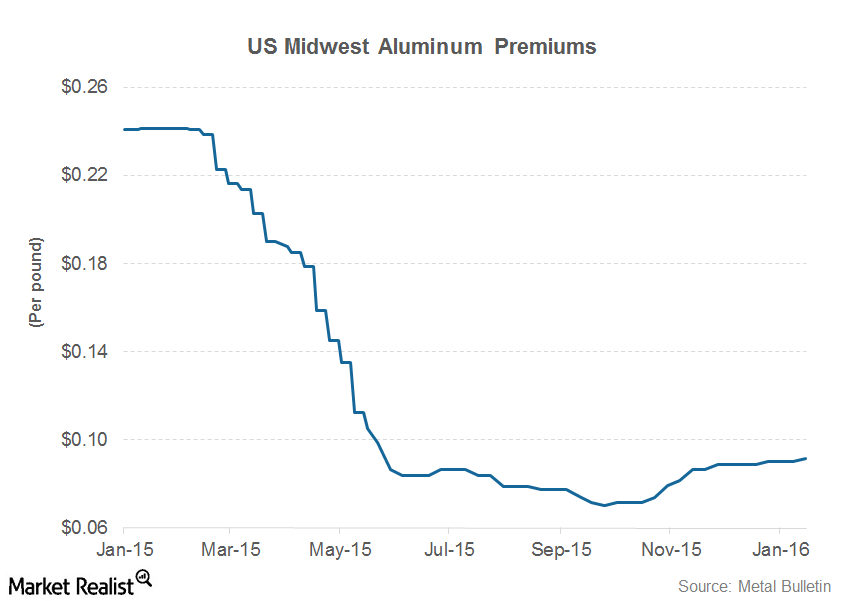 Article continues below advertisement
Aluminum premiums in the US compared to Europe
US Midwest aluminum premiums, as estimated by Metal Bulletin, have risen slightly in 2016. Nonetheless, aluminum premiums are currently only a fraction of their 2015 peak as can be seen in the graph above. Interestingly, while aluminum premiums in the US have strengthened in January, they have weakened in Europe. Why? The answer to this could be found in the different dynamics in the US compared to in Europe.
Firstly, aluminum demand is stronger in the US than it tends to be in Europe. Moreover, there have been significant capacity cutbacks in the US (DIA) with both Alcoa and Century Aluminum Company (CENX) curtailing their high-cost capacity. By contrast, we have not seen any major curtailment happening in Europe. Norsk Hydro (NHYDY), which is the leading European aluminum producer, is going ahead with its planned production, but apparently, non-US based aluminum producers are not cutting production even in the face of falling aluminum prices. Rio Tinto (RIO) expects to produce 10% more aluminum in fiscal 2016 compared to what it produced in fiscal 2015.
Meanwhile, can US aluminum premiums continue to strengthen further? Continue to the next part of this series to find out.