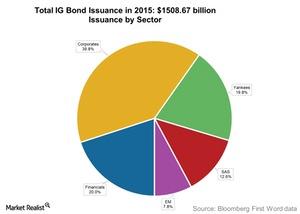 Actavis Led 2015's High-Grade Bond Issuance
By Lynn Noah

Jan. 14 2016, Updated 2:16 p.m. ET
Deals Overview
US corporates were the biggest issuers of high-grade bonds in 2015, making up 39.8% of all issues, or $600 billion. US financials were the second-biggest issuers, at 20.0%. Meanwhile, Yankee issuers raised $299.2 billion via high-grade bonds and made up 19.8% of the total issuance. Emerging market issuers issued $118.3 billion worth of high-grade bonds in 2015.
Issuance by high-grade corporates are part of mutual funds like the T. Rowe Price New Income Fund (PRCIX) and the Strategic Advisers Core Income Fund (FPCIX).
Article continues below advertisement
Highlights of major issues in 2015
Actavis (ACT)—a manufacturer of generic, brand, and biosimilar pharmaceuticals—issued $21.0 billion worth of bonds. Actavis intended to use the proceeds of this offering to pay for its $66 billion acquisition of Allergan (AGN). This was the largest investment-grade issuance in 2015.
AT&T (T), the telecom major, had issued bonds worth $17.5 billion—making it the second-largest issuer of high-grade bonds in 2015.
AbbVie (ABBV)—a global research-based biopharmaceutical company—issued bonds worth $16.7 billion. It was the third-largest issuer of high-grade bonds in 2015.
Visa (V) issued A1/A+ rated high-grade bonds worth $16.0 billion on December 9. Visa will use the proceeds for the acquisition of Visa Europe Limited.
CVS Health (CVS), along with its subsidiaries, provides pharmacy healthcare services in the United States. It issued bonds worth $15.0 billion. CVS Health raised these bonds to finance its acquisition of Omnicare (OCR) and Target's (TGT) pharmacy and clinic businesses.
Microsoft (MSFT) issued bonds worth $14.0 billion.
Shell International, a subsidiary of Royal Dutch Shell (RDS.A), issued high-grade bonds worth $10.0 billion.
In the next article of this series, we'll analyze investment-grade bond fund flows.