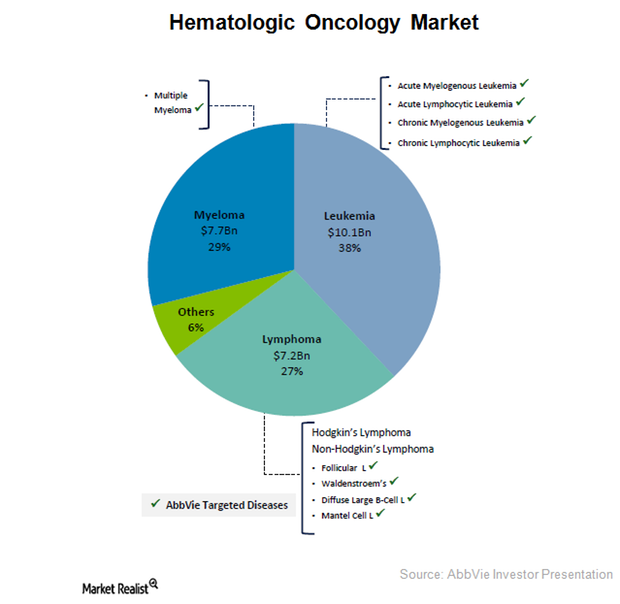 AbbVie Expects Imbruvica Revenues to Reach $5 Billion in 2020
By Margaret Patrick

Jan. 20 2016, Updated 11:06 a.m. ET
Imbruvica performance
Imbruvica, AbbVie's (ABBV) hematologic oncology drug earned $304 million in revenues in 3Q15. AbbVie added Imbruvica to its drug portfolio through the acquisition of Pharmacyclics, completed in March 2015.
In 3Q15, Imbruvica's US sales were $267 million, and the company earned $37 million from the drug's sales in international markets. AbbVie expects that the acquisition of Pharmacyclics could add ~$750 million revenues to the company's 2015 revenues.
Article continues below advertisement
Hematologic oncology opportunity
The above chart shows that the $27 billion hematologic oncology market is further classified as leukemia, lymphoma, myeloma, and other disease markets. It also shows the various diseases targeted by AbbVie with its existing and pipeline drugs. The hematologic oncology market is expected to be worth $50 billion by 2020.
AbbVie expects Imbruvica's revenues to reach $5 billion in 2020, resulting from the increased penetration in the market for approved indications. It expects Imbruvica to give tough competition to other hematologic oncology players such as Celgene (CELG), Johnson & Johnson (JNJ), and Novartis (NVS).
The company also expects to benefit from future approvals for Imbruvica as a front-line therapy for the approved indications. To learn more about Imbruvica, please read AbbVie's Acquisition of Pharmacyclics Proves Favorable.
Imbruvica growth potential
AbbVie expects to earn $1 billion from US sales of Imbruvica in 2015 and $7 billion in peak sales in the drug's life cycle. Imbruvica is currently approved in four indications in the hematologic oncology space. It is being evaluated in 25 additional company-sponsored trials for its efficacy in additional types of cancers.
The drug is expected to become a first-line treatment for CLL (chronic lymphocytic leukemia) and MCL (mantle cell lymphoma). It is also explored for follicular lymphoma (or FL), marginal zone lymphoma (or MZL), diffuse large B-cell lymphoma (or DLBCL), and multiple myeloma (or MM). The drug has also displayed potential in the treatment of chronic graft versus host disease and is also explored for use in solid tumors such as pancreatic cancer, lung cancer, and breast cancer.
For diversied exposure to AbbVie, investors can consider the iShares Russell 1000 Growth ETF (IWF). AbbVie accounts for about 0.9% of IWF's total holdings.