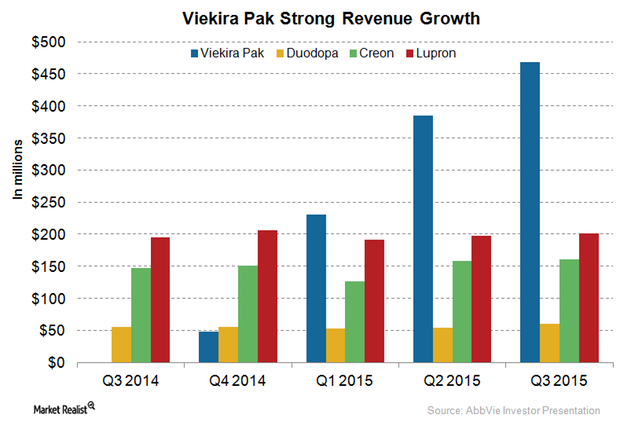 AbbVie Is Expected to Strengthen Its Position in Virology in 4Q15
By Margaret Patrick

Jan. 19 2016, Updated 8:06 a.m. ET
Performance of Virology and Other Segments
Similar to 3Q15, in 4Q15, analysts expect that AbbVie could witness strong performance for its hepatitis C (or HCV) drug, Viekira Pak, as well as other drugs such as Lupron, Duodopa, and Creon.
Article continues below advertisement
HCV drugs
Viekira Pak is currently approved in 61 countries and is expected to be approved in additional countries in 2016. In 3Q15, the drug performed better than expected in international markets, especially in Japan.
AbbVie has also received approval for its two-drug, once-daily, ribavirin-free combination for treating genotype 1b HCV patients in Japan. The company expects to launch this drug in Japan after the 60-day reimbursement review cycle ends.
In 2017, AbbVie expects to commercialize its next-generation once-a-day HCV drugs, which are pan-genotypic and do not contain ritonavir and ribavirin. Combined with next-generation HCV drugs, Viekira Pakis is expected to enable AbbVie to compete with other HCV players such as Gilead Sciences (GILD), Bristol Myers Squibb (BMY), and Merck (MRK).
On October 22, 2015, AbbVie (ABBV) updated the label for Viekira Pak and changed its status from "not recommended" to "contraindicated" for patients with advanced liver cirrhosis or for Child-Pugh B patients. According to Radiopaedia, "The Child-Pugh score is a scoring system to measure the severity of chronic liver disease inclusive of cirrhosis. The intention is to provide a system with which clinicians can objectively communicate about liver function."
Viekira Pak is also contraindicated for Child-Pugh C patients. Because only 3%–4% of all HCV patients fall in the Child-Pugh B and C categories, the change in label is not expected to drastically impact Viekira's sales. To learn more about Viekira Pak and AbbVie's virology drugs, please read AbbVie Strengthens Its Position in the Virology Segment.
Instead of making a direct investment in AbbVie, investors can consider the broad-based SPDR S&P Dividend ETF (SDY). AbbVie accounts for about 1.8% of SDY's total holdings.