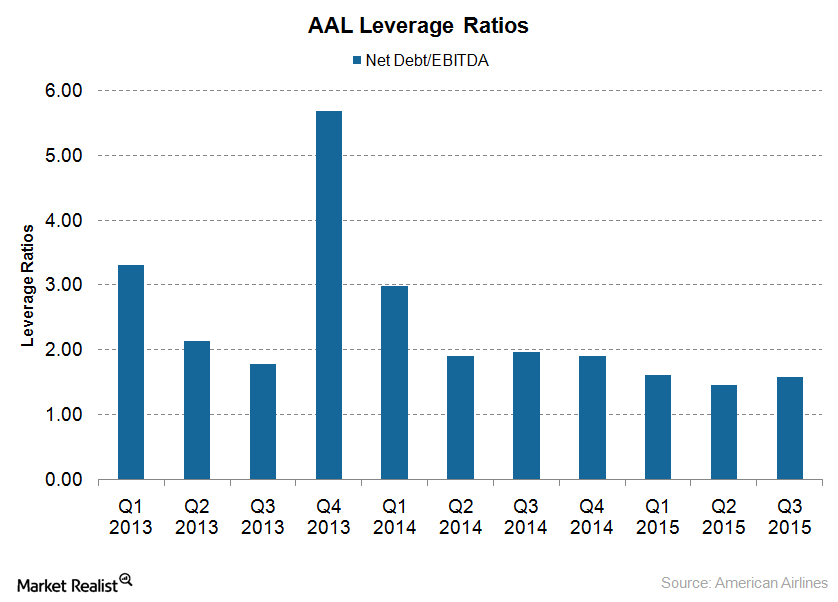 Is AAL's High Debt Compared to the Industry a Disadvantage?
By Ally Schmidt

Jan. 27 2016, Updated 1:34 p.m. ET
High debt
In 3Q15, American Airlines (AAL) completed its passenger service system integration with that of US Airways, as a result of the companies' merger. Most of the group's energies were focused toward the merger activities.
At this time of record profitability for airlines, where most airlines have tried to strengthen their balance sheet by reducing debt. American Airlines has paid little attention to debt.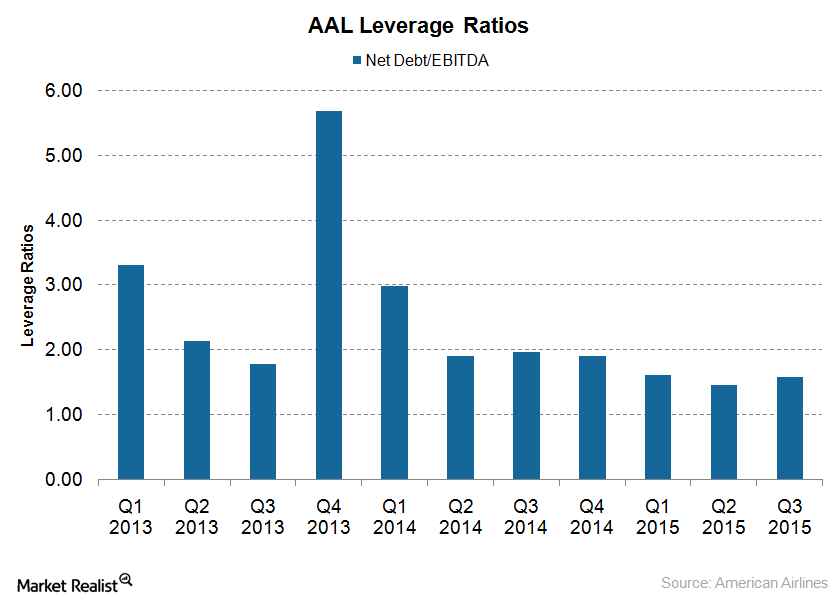 Article continues below advertisement
As a result, American Airlines' debt-to-EBITDA (earnings before interest, tax, depreciation, and amortization) ratio has decreased from 3.06x at the start of 2015 to just 2.74x at the end of 3Q15. This is the highest among its peers. United Continental's (UAL) leverage ratio for 3Q15 stands at 1.87x, Alaska Air Group's (ALK) leverage ratio is 0.44x, and Delta Air Lines' (DAL) leverage ratio is 1.24x.
American Airlines (AAL) comprises 5% of the Dynamic Leisure & Entertainment Portfolio ETF's (PEJ) holdings.
Cash flows
Improving profitability has also increased AAL's cash flows. At the end of June 2015, American Airlines had $9.7 billion of cash and investments on its balance sheet.
Article continues below advertisement
Future plans
Now that American Airlines (AAL) has completed its integration process, management plans to divert its attention to its high debt levels and bring them down over time. However, a clear-cut plan is not yet available. This should be an important factor to watch for in the upcoming earnings call.
It is important for investors to track AAL's leverage, especially given the fact that AAL emerged from bankruptcy in late 2013. In 2011, its former holding company AMR Corporation filed for bankruptcy while trying to restructure its high debt.
The airline industry's fundamentals have improved tremendously and are expected to have reached as peak. AAL's high leverage means high interest payments. If margins decline as analysts estimate, it would mean reduced cash flows. This would make it difficult to make interest payments and could leave next to nothing on the table for its investors.
On the other hand, if American Airlines does manage to reduce its leverage significantly, it would put AAL in a much better position to weather the next industrial downturn, whenever that happens.