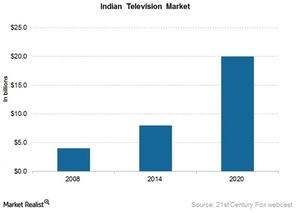 21st Century Fox's STAR: A Star in India
By Shirley Pelts

Dec. 4 2020, Updated 10:53 a.m. ET
STAR India
Twenty-First Century Fox (FOXA) owns STAR India, India's (EPI) largest media network. STAR India develops, broadcasts, and produces programming for 51 channels in seven languages in its portfolio.
The company is targeting a profit of $0.5 billion in fiscal 2018 and a profit of $1 billion in fiscal 2020 for STAR network in India. The company is on track to achieve this target through the growth of its STAR entertainment network, which has a 22% market share of entertainment in India.
Article continues below advertisement
It is also looking at competing for and acquiring sports telecasting rights in the Indian subcontinent in 2017 and 2018. STAR India also owns sports telecasting rights for major sporting events popular in India and internationally, including the ICC (International Cricket Council) matches through 2023, Wimbledon through 2022, and Bundesliga matches through 2020.
Another factor in the company's Star success story is through its digital over-the-top platform, called hotstar, that saw 20 million downloads in the four months after its release in January 2015.
The company also completed the acquisition of MAA Television Network, which broadcasts Telugu language entertainment channels. The acquisition is expected to strengthen the network's regional language portfolio in India. As the above chart indicates, 21st Century Fox had stated in an earlier earnings call that the Indian television market could be worth $20 billion by 2020.
Article continues below advertisement
Advertising revenues
Advertising is a major source of 21st Century Fox's revenue from the Indian market. In fiscal 2015, 66% of the company's advertising revenue came from the Indian and Latin American markets. The company stated at a UBS (UBS) Global Media & Communications Conference held in late 2015 that a majority of its advertising revenues in the Indian market are coming from e-commerce companies in India that are competing against each other.
The company's investment in India has increased over the past six to seven years, as indicated by its recent acquisition of sports telecasting rights for major events, the launch of hotstar, and the acquisition of MAA Television Network. The company has stated in its earnings call that it expects the Indian market to contribute around $500 million to the company's long-term profitability in the next two to three years.
Twenty-First Century Fox makes up 0.19% of the iShares S&P 500 Index ETF (IVV). If you're interested in exposure to the Computers sector, IVV has 3.8% exposure to that space. IVV also holds 2.5% of Microsoft (MSFT) and 3.2% of Apple (AAPL).