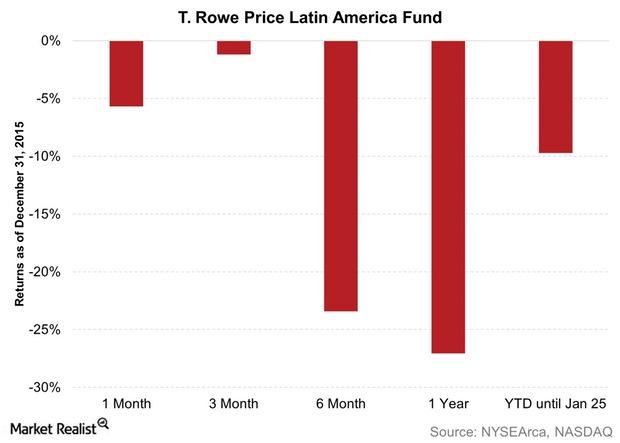 2015 Wasn't Too Bad for the T. Rowe Price Latin America Fund
By David Ashworth

Jan. 27 2016, Published 6:39 p.m. ET
Performance evaluation
The T. Rowe Price Latin America Fund (PRLAX) fell 5.7% in December 2015 from a month prior. In the three- and six-month periods ended December 31, the fund fell 1.2% and 23.4%, respectively. In the one-year period, the one we'll be analyzing, it declined 27.1%. Meanwhile, from the end of December to January 25, the fund fell by 9.7%.
The fund had a bad month in December. However, better performance for the remainder of the year ensured that it had the second-smallest decline in 2015 among the eight funds in this review. Let's see what helped the fund contain its losses last year.
Article continues below advertisement
Portfolio composition and contribution to returns
Launched in December 1993, PRLAX has the second-longest track record among the funds in this review. According to its latest geographical disclosure, Brazil, Mexico, and Chile are the top three regions it invests in, in that order, making up 88.3% of the fund's assets.
The latest complete portfolio available for the fund is from September 2015. Therefore, we'll take that portfolio as our base and consider valuation changes as they were at the end of December 2015 for our analysis. All portfolio percentages mentioned from here on refer to weights according to changes in valuation from September to December.
Financials were head and shoulders above all other sectors in terms of negative contribution to PRLAX's overall returns in 2015. The preference shares of Itaú Unibanco Holding (ITUB) and preference shares of Banco Bradesco (BBD) contributed more than half of the sector's negative effect. Though Grupo Financiero Galicia (GGAL) contributed positively for the year, this contribution was too small to meaningfully reduce the overall negative contribution.
The consumer staples sector was driven down by Ambev (ABEV) and BRF (BRFS). However, substantial positive contributions from Wal-Mart de Mexico, Grupo Lala, and the sponsored ADR (American depositary receipt) of Fomento Económico Mexicano (FMX) reduced the drag on the sector substantially.
While CCR was responsible for the poor showing of industrials, America Movil (AMX) and TIM Participações (TSU) drove down the telecom sector. Energy was hurt by Petrobras (PBR) and Tenaris (TS).
Reasons for better showing
No Latin America-linked product had a positive outcome in 2015. PRLAX was hurt most by its top three sectors, not unlike several of its peers in this review. However, some of PRLAX's stock picks were able to reduce the drag considerably, thereby capping the decline. Stock picks such as El Puerto de Liverpool and Grupo Lala, among several others, ensured curtailment of a further fall in returns. In the next article, we'll look at the Deutsche Latin America Equity Fund – Class A (SLANX).