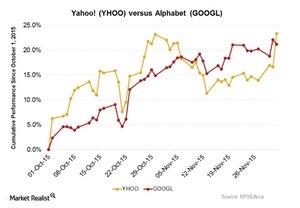 Yahoo! Hogged the Limelight as it Made Its Way in SPY
Top stocks
On Wednesday, December 2, the stocks at the top of the SPDR S&P 500 ETF (SPY) were Avon Products (AVP), Yahoo! (YHOO), and Qualcomm (QCOM). These stocks gained 6.9%, 5.8%, and 5.2%, respectively, on the day. Yahoo! (YHOO) stocks rose on Wednesday as the company's board members are expected to meet on the day through Friday to discuss the possibilities of selling YHOO's internet business. The company is also considering a plan to spin off its investment in the e-commerce giant, Alibaba Group (BABA). The graph below compares the stock price performances of Yahoo! (YHOO) and its peer company, Alphabet Inc-CL A (GOOGL), since October 2015.
Article continues below advertisement
Further details
As we can see from the graph above, the beta value of Yahoo! (YHOO) equaled 1.01. In other words, the stock moved in tandem with the broad market movement. The trailing-5-day returns and the trailing-one-month returns of the stock were 8.2% and 2.7%, respectively. Additionally, the trailing-one-year return of the stock was -29.1%.
YHOO traded at $35.7, or above its moving averages. The 100-day, 50-day, and 20-day moving averages of the stock equaled $34, $33, and $34, respectively. These point towards the uptrend in the price movement of the stock.
The trading volume of the stock soared to 56,708,065 stocks from the previous day's volume of 11,020,448 stocks. This was due to the news of a discussion among board members on selling the company's internet business.
The analyst stock price target is set at $41.6, suggesting a growth potential of 16.7% in the stock price.
The stock earned 26 "Buy" 17 "Hold," and no "Sell" recommendations. Standard & Poor's rated the stock as "BB+" with a "Negative" outlook.
Bottom stocks
On December 2, the stocks at the bottom of the SPDR S&P 500 ETF (SPY) were the energy and utility stocks, namely, QEP Resources (QEP), Denbury Resources (DNR), and NRG Energy (NRG). These stocks yielded -9.0%, -8.1%, and -12.6%, respectively, on the day.
NRG Energy (NRG) tumbled on the day on news that the company sold two of its power plants for $138 million.
Next, let's take a glance at the UK stock market on the day.