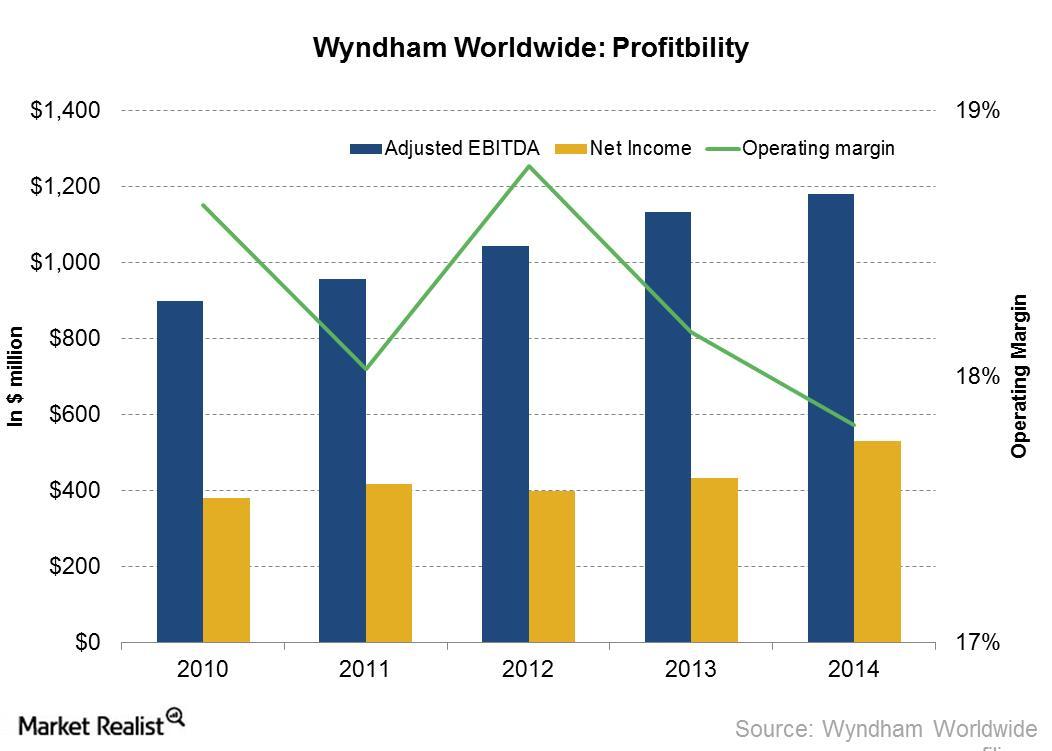 Why Are Wyndham Worldwide's Profitability Margins Declining?
By Sam Matthews

Dec. 24 2015, Updated 8:04 a.m. ET
Operating margin
Wyndham Worldwide's (WYN) operating margins declined from 18.6% in 2010 to 17.6% in 2014. This fall in operating margins can be mainly attributed to growing marketing and reservation expenses.
Meanwhile, the company has increased its expenditure on marketing expenses in order to generate more tours that drive its vacation ownership, or VOI (vacation ownership interest), business segment. The company has a relatively higher exposure in its VOI segment, which has increased its marketing expenses on tours without equivalent growth in its sales, leading to a decline in its operating margin.
At the same time, Wyndham's marketing and reservation expenses have increased as percentage of total expenses from 13.7% in 2010 to 18.4% in 2014.
Article continues below advertisement
EBITDA and net income
Wyndham saw its EBITDA (earnings before interest, taxes, depreciation, and amortization) grow by 5.4% in 2014 over 2013. This growth was largely driven by strong growth in EBITDA of its lodging segment. The lodging segment's lower restructuring costs recorded resulted in a higher EBITDA in 2014.
Meanwhile, Wyndham's vacation exchange and rentals saw a decline of 5.9% in EBITDA due to losses in sales recorded in 2014. The company's VOI segment saw its EBITDA grow due to a strong performance in providing other ancillary services to the customers. This EBITDA margin has come down from 23.3% in 2010 to 22.4% in 2014, largely driven by higher marketing expenses. The company reported that VOI segment spent $69 million more than it did in 2013 on sales and marketing expenses for tours for the new owner generation.
The exchange and rental segment was the company's least profitable, with a 20.9% EBITDA margin. The lodging and VOI segments recorded 29.7% and 25% EBITDA margins, respectively.
Notably, Wyndham's net income increased from $433 million in 2013 to $529 million in 2014. In 2013, the company recorded a lower net income, spending $111 million for the early repayment of long-term debt.
Asset turnover ratio and ETF exposure
Wyndham's asset turnover ratio has increased over the years from 0.41 in 2010 to 0.55 in 2014. Among peers, Marriott International recorded its highest asset turnover ratio of 2.0, followed by Starwood Hotels & Resorts Worldwide (HOT) at 0.69, Hyatt Hotels Corporation (H) at 0.54, and Hilton Worldwide Holdings at 0.4. The assets have seen a flat growth since 2010. This rapid growth in revenue has resulted in a higher asset turnover ratio.
The property and equipment ratio to the total assets of Wyndham is the lowest among the peers at 15.4%. Hyatt (H) had the highest ratio at 50%, followed by Hilton (HLT) at 34.5%, Starwood (HOT) at 30.4%, and Marriott at 21.2%.
Investors can gain exposure to the hotel sector by investing in the iShares Russell 1000 Growth (IWF), which invests approximately 3% in the hotel sector, including 0.09% in Wyndham, 0.14% in Marriott (MAR), 0.12% in Hilton (HLT), and 0.12% in Starwood (HOT).
Now let's look at returns.