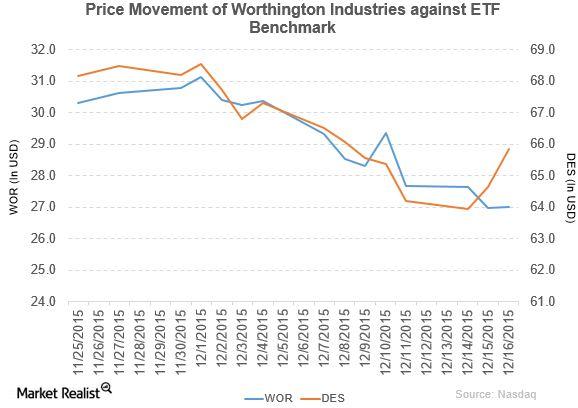 Worthington Industries' Revenue and Income Fell in Fiscal 2Q16
Worthington's price movement
Worthington Industries (WOR) has a market cap of $1.7 billion. Its YTD (year-to-date) price movement was a mix of rises and falls in 2015. After the fiscal 2Q16 earnings report, Worthington rose by 0.11% to close at about $27.0 per share as of December 16, 2015. The price movement on a weekly, monthly, and YTD basis is -4.1%, -9.2%, and -7.8%, respectively.
The stock has broken the support and is trading below all the moving day averages. Currently, WOR is trading 8.4% below its 20-day moving average, 9.8% below its 50-day moving average, and 1.5% below its 200-day moving average.
The WisdomTree SmallCap Dividend ETF (DES) invests 0.30% of its holdings in Worthington. The ETF tracks an index of dividend-paying US stocks. The dividend-weighted index is a small-cap subset of the WisdomTree Dividend Index. The YTD price movement of DES is -6.6% as of December 15, 2015.
The competitors of Worthington Industries (WOR) and their market cap are:
Article continues below advertisement
Performance of Worthington Industries in fiscal 2Q16
Worthington Industries (WOR) reported fiscal 2Q16 net sales of $699.8 million, a fall of 19.7% when compared to its net sales of $871.0 million in fiscal 2Q15. Sales from the company's Steel Processing, Pressure Cylinders, and Engineered Cabs segments fell by 15.4%, 20.4%, and 44.3%, respectively, in fiscal 2Q16, compared to revenues in fiscal 2Q15.
The company's cost of goods sold as a percentage of net sales and operating income fell by 1.2% and 63.9%, respectively, in fiscal 2Q16 compared to the same period last year. Its net income and EPS (earnings per share) fell to $23.2 million and $0.36, respectively, in fiscal 2Q16, compared to net income and EPS of $29.5 million and $0.43, respectively, in fiscal 2Q15.
Meanwhile, the company's cash and cash equivalents and inventories fell by 11.9% and 6.3%, respectively, in fiscal 2Q16 as compared to fiscal 4Q15. Its current ratio rose to 1.92 while its debt-to-equity ratio fell to 1.43 in fiscal 2Q16, compared to a current ratio of 1.89 and a debt-to-equity ratio 1.48 in fiscal 4Q15.
Also, Worthington Industries declared a quarterly dividend of $0.19 per share on its common stock. Finally, it repurchased a total of 1,500,000 common shares for $43.9 million at an average price of $29.26.
Article continues below advertisement
Acquisition and new facility
Worthington's Pressure Cylinders segment acquired assets of Trilogy Engineered Solutions.
Additionally, the company's tailor welded blanking joint venture, TWB Company LLC, opened a new facility in Glasgow, Kentucky.
Also, its Cryogenics business in the Pressure Cylinders segment purchased the assets of the CryoScience business of Taylor Wharton, including a manufacturing facility in Theodore, Alabama, for $31.4 million.
CEO's comments
According to John P. McConnell, Worthington's chairman and CEO, "We had a solid performance for the quarter in the face of some market weakness. We have responded to the softer markets by lowering manufacturing costs to help improve results in those businesses. The majority of our joint ventures delivered good results in the quarter."