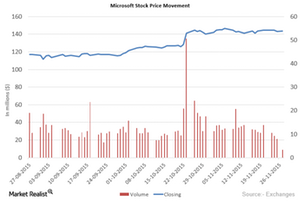 How Will the Volvo Partnership Benefit Microsoft?
Volvo will make use of HoloLens
Almost every industry makes use of technology to transform the traditional approach to a more mechanical or automated way, whether it is manufacturing, healthcare, or automotive. Car manufacturers are joining tech giants in the race to the driverless car to bring about massive changes in the industry as demand for autonomous driving increases. Car manufacturing firms such as Ford, Audi, and Tesla have already made their move towards the automated car, whereas Google is testing its driverless cars, and Apple is also expected to come out with its own driverless vehicle.
Article continues below advertisement
Microsoft announced its partnership with Volvo to project driverless vehicles that will allow potential buyers to visualize and configure cars in three dimensions by leveraging Microsoft's HoloLens. In April 2014, Microsoft had come up with the "Windows in the car" concept to extend its Windows smartphone functionality directly into a built-in car display. That was quite similar to Apple's "CarPlay" and Alphabet's "Android Auto." It is more likely that Microsoft will extend its Windows 10 ecosystem to cars, but the company is getting cutthroat competition from "CarPlay" and "Android Auto," which are using Blackberry's QNX platform.
Microsoft can leverage its core competency
Volvo seems to be a good partner for Microsoft, who has come up with advanced driverless technology that may allow Microsoft to come up with its own driverless car. Apple is already moving on its driverless car project called "Project Titan." The company also visited BMW's Leipzig factory to study the process behind the manufacturing of the i3 electric car.
Microsoft can leverage its core competency by developing software that will power the autonomous or semi-autonomous car. However, it will take three to five years to get the product ready, considering the time it involves to collect and relate that large amount of data required for driverless technology.
The SPDR S&P 500 ETF (SPY) is a portfolio of 507 stocks. Its top four stocks, Apple (AAPL), Microsoft (MSFT), Exxon Mobile (XOM), and General Electric Company (GE), make up 3.6%, 2.3%, 1.9%, and 1.7%, of the fund, respectively.