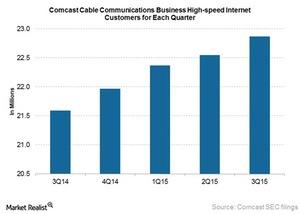 Will Usage-Based Pricing for Comcast High-Speed Internet Continue in 2016?
By Shirley Pelts

Jan. 1 2016, Updated 11:06 a.m. ET
Usage-based pricing
Comcast (CMCSA) customers are making known their displeasure for usage-based pricing, that is, data caps. According to a December 29, 2015, ArsTechnica report citing a "Freedom of Information Act request with the FCC," there have been far more complaints—around 12,000 this year—for Comcast compared to AT&T (T), Verizon Communications (VZ), and Time Warner Cable (TWC).
Most of these complaints are against Comcast's 300 GB data caps that the company began imposing earlier this year. Comcast is imposing data caps in more cities across the United States while steadily trying out data caps in an increasing number of cities in the United States. Comcast stated in an earnings call in 2014 that it was planning to roll out data caps across all its markets in the United States over the next five years.
Article continues below advertisement
In 2015, Comcast started imposing overage fees for customers who exceed the 300 GB data limit. However, Comcast has stated that it will not impose data overage fees for a consumer exceeding the 300 GB data limit for the first three times the consumer goes over. For customers who want unlimited data, Comcast will charge them an additional $35 per month.
High-speed Internet business in 3Q15
As the chart below indicates, Comcast's HSI (high-speed Internet) had 22.9 million customers in 3Q15. The net customer additions for HSI of 320,000 in 3Q15 was the strongest third-quarter result in the past six years for Comcast.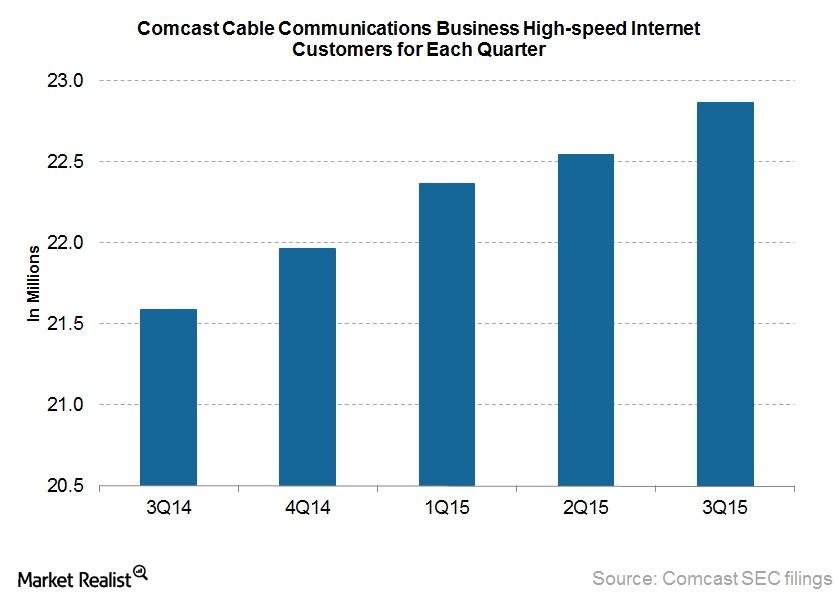 Comcast has stated that its revenues from high-speed Internet in 3Q15 grew by 10.2% year-over-year, mainly due to an increase in Comcast's residential high-speed Internet service customers. The company's high-speed Internet customer base is growing as it gains more customers who want access to high-speed Internet.
Why the usage-based pricing?
At the UBS (UBS) Global Media & Communications Conference held on December 7, 2015, Comcast stated that it believes that even if its revenues from high-speed Internet are growing steadily, it still believes that the high-speed Internet market has relatively low penetration.
Historically, Comcast has always priced its service based on speed, but it has started experimenting with usage-based pricing. The company is experimenting with usage-based pricing, as it believes that 10% of its high-speed Internet clients use 50% of Comcast's high-speed Internet network capacity. It views usage-based pricing as a way to "compensate" for the company's investments in technology to improve its HSI network.
However, considering the complaints from Comcast customers, it remains to be seen how long usage-based pricing continues.
Comcast makes up 2.6% of the PowerShares QQQ ETF (QQQ). QQQ has 4.4% exposure to the television and radio sector.