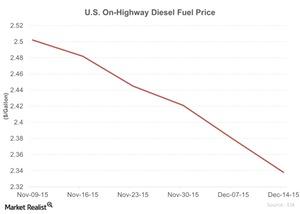 Will Diesel Prices Recover in the Near Future?
By Manu Milan

Updated
Diesel prices
On Monday, December 14, 2015, the EIA's[1 U.S. Energy Information Administration] weekly gasoline and diesel fuel price updates showed that diesel fuel prices averaged $2.33 per gallon on December 14. This represents a fall of ~1.7% from the previous week's price of $2.37 per gallon, recorded on December 7, 2015. The current diesel prices are about 31.6% lower than the corresponding period last year.
Article continues below advertisement
Diesel prices by region
On December 14, US diesel prices were at $2.55 per gallon in the West Coast region. These were the highest prices when compared to other regions. The Rocky Mountain, Midwest, and East Coats regions' average diesel prices were $2.37 per gallon, $2.29 per gallon, and $2.37 per gallon, respectively. The Gulf Coast's retail diesel prices were at $2.21 per gallon, making them the lowest regional prices.
Why did diesel prices fall?
The EIA data for the week ended December 9, 2015, showed that the current distillate demand–including diesel and heating oil–is 1.2 % lower than the previous year's demand. Conversely, the distillate inventory builds are 22.7% more than the previous year's builds. When inventories rise, that replicates a lower demand, so prices come down.
Unlike diesel-driven vehicles in Europe and Asia, most US vehicles are gasoline driven because of lower demand for diesel in comparison to gasoline. On top of that, diesel consumption in Asian countries like China and India has fallen, so there is an excess supply of diesel in global markets. In other words, there is no scope for exports, resulting in inventory builds and lower diesel prices.
The recent projections by the IEA (International Energy Agency) also show that there is slow demand growth for energy, so in the near term, there is no scope for diesel prices to recover. The EIA projected that diesel prices will average $2.71 per gallon in 2015 and $2.67 per gallon in 2016.
What's the impact of lower diesel prices?
Lower diesel prices have an adverse effect on refinery margins. Refiners will get less money for the products that they produce. This has a greater impact on the profitability of refineries such as Chevron (CVX), Western Refining (WNR), Tesoro (TSO), PBF Energy (PBF), and Holly Frontier (HFC).
Tesoro makes up for 1.7% of the SPDR S&P Oil & Gas Exploration & Production ETF (XOP).
Lower diesel prices also have a negative impact on MLPs because lower prices discourage refinery production. In turn, that leads to lower transport volumes for MLPs such as Valero Energy Partners (VLP) and Tesoro Logistics (TLLP). So, lower transport volumes decrease the revenues of MLPs.
Find updates on the crack spread in the next part of this series.