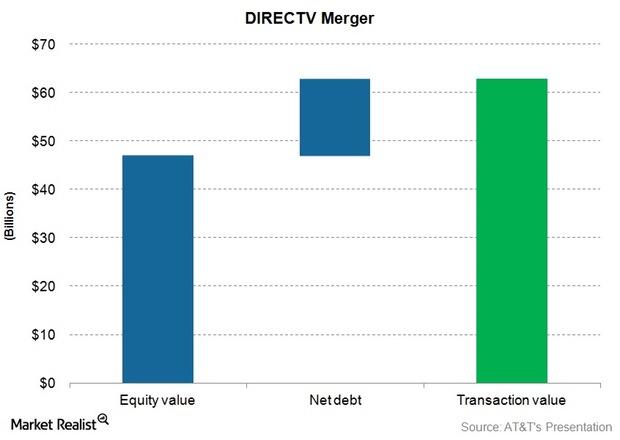 How Will Comcast Fare against the AT&T-DirecTV Merger?
By Shirley Pelts

Jan. 7 2016, Updated 8:07 a.m. ET
Impact on Comcast
Comcast (CMCSA) was asked about the impact of the AT&T (T) DirecTV merger on its triple-play (voice, video, and high-speed Internet) services at the UBS (UBS) Global Media & Communications Conference held on December 7, 2015.
Comcast stated that the AT&T-DirecTV merger has created a significant competitor in the cable market, as it would allow AT&T to offer "bundled wireless offering" along with its cable services. AT&T also offers the U-verse triple-play service.
Article continues below advertisement
Comcast stated at the UBS conference that the increased competition from the AT&T-DirecTV merger was one of the reasons for its increased focus on deployment of its X1 video platform, offering its triple-play products according to market segmentation. The merger is also why it's trying out the new DOCSIS 3.1 technology for its high-speed Internet service before rolling out this technology early next year.
Comcast believes that these new initiatives will allow it to better face the increased competition from the AT&T-DirecTV merger.
AT&T-DirecTV merger
In July this year, AT&T acquired DirecTV for a transaction valued at ~$63 billion. At the completion of the merger transaction, the equity value of DirecTV was ~$47.1 billion, and its net debt was ~$15.9 billion.
In 3Q15, AT&T's U-verse had net losses of ~92,000 video subscribers. Meanwhile, the company added ~26,000 DirecTV video subscribers in its domestic segment. At the end of 3Q15, AT&T had ~25.4 million video subscribers in its domestic operations. This base comprised ~5.9 million U-verse video subscribers.
After its DirecTV acquisition, AT&T's pay-TV base became the largest in the United States. Note that before the acquisition, DirecTV had the second-largest US pay-TV base, and the largest in this metric was Comcast. A large subscriber base in this market gives AT&T better negotiating power for content costs.
Comcast makes up 2.6% of the PowerShares QQQ ETF (QQQ). QQQ has 4.4% exposure to the television and radio sector. QQQ has 5.0% of its holdings in Alphabet (GOOG).