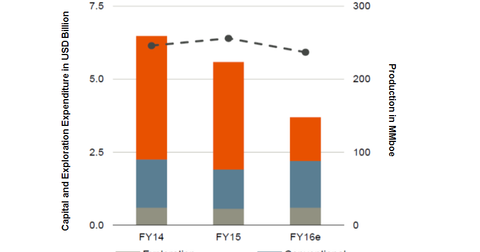 Will BHP's Petroleum Division Need to Take on More Impairments?
By Anuradha Garg

Updated
Further impairment charges
For BHP Billiton (BHP) (BBL), its petroleum division remains one of the most challenging businesses to operate in the current commodity price environment.
In July 2015, BHP's management mentioned that at a $60 per barrel WTI crude oil price (USO) and a $3 per unit Henry Hub gas price, its onshore US business could be free cash flow positive in fiscal 2016. As of December 15, 2015, WTI crude was trading at $37 per barrel, while Henry Hub gas prices touched a new all-time low of $1.68 per unit. At these price levels, BHP's petroleum division has come under increasing pressure.
In July 2015, BHP took an impairment charge of $2 billion post-tax on its onshore US assets. This followed a $2.8 billion impairment in 2012 on its shale assets. Based on the current weaker market outlook for oil and gas prices, there is a potential for further impairment charges.
Article continues below advertisement
Further cuts in capex
The company also highlighted that its aggregate capital expenditure of $3.7 billion for fiscal 2016 for petroleum capex and exploration will depend on oil prices. There's a likelihood of capex going down if the markets deteriorate further.
During an energy conference in September 2015, BHP's president for petroleum Tim Cutt said, "With the active competition for capital we see across our broader minerals and petroleum portfolio, we are prepared to leave hydrocarbons in the ground today if we see better returns available in the future."
Capital expenditure has been reduced at the Eagle Ford shale, which will most likely lead to slowing production going forward. The Permian basin is ramping up but at a slower pace. At its Haynesville and Fayetteville gas fields, production is falling mainly due to subdued price levels. BHP will need higher prices to increase its activity levels.
Oil price outlook
While BHP expects a medium-term recovery in oil and US gas prices, it believes near-term volatility will continue. Under the current spot prices, BHP is expected to continue to struggle to bring this division into the positive cash flow zone.
US-based (SPY) energy companies such as ConocoPhillips (COP), ExxonMobil (XOM), Chevron (CVX), and Pioneer Natural Resources (PXD) are also being impacted due to the oversupply and weaker demand scenario.