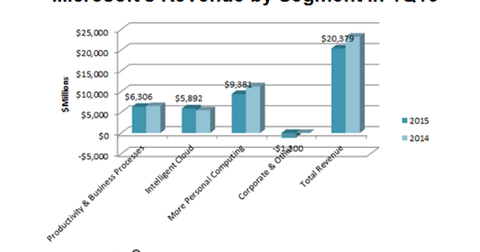 Will Amazon Web Services Lose Its Position to Microsoft in 2016?
By Anne Shields

Updated
Amazon's leadership position in the cloud space is in danger
It's common knowledge in the $11.5 billion cloud space that Amazon is an indisputable market leader. However, if Wall Street is to be believed, Amazon's (AMZN) AWS (Amazon Web Services) is likely to face stiff competition from Microsoft's (MSFT) cloud computing platform, Azure, in 2016.
If we look at the estimates provided by FBR Capital Markets, a research company, Azure is likely to reach an annual run rate of $8 billion in 2016 compared to AWS's annual run rate of $7 billion in 2015. FBR stated in its report, "We continue to believe 2016 will be a '206 area code street battle for the cloud,' with Microsoft firmly best positioned as the vendor to compete with AWS on the enterprise cloud front for years to come."
Article continues below advertisement
Microsoft's land and expand strategy
Owing to its deep-rooted presence in the enterprise software space as well as its long-held experience in dealing with big companies, Microsoft has an edge over its peers and will go a long way in catching up to AWS.
In fiscal 1Q16, Microsoft stated that it had a "70 percent year-over-year growth in our commercial cloud run rate." Run rate provides a yearly projection based on a single quarter's figures.
Deutsche Bank in its recent report stated that Microsoft follows the "land and expand" strategy to expand Azure's sales. According to Microsoft, the "land" aims to multiply its Azure sales by allowing every single customer to make use of a little bit of the Azure Cloud service, whereas "expand" aims to drive the increase in customer spending toward the Azure Cloud service. In fact, some customers are already spending "millions of dollars per year" on Azure.
However, Deutsche Bank stated that Microsoft's offering is perceived as product-centric, less customized product, whereas AWS is looked at more as a customer-centric offering.
In the cloud computing space, apart from Amazon's AWS, Microsoft's Azure competes with IBM's (IBM) Bluemix, and Google's (GOOG) Cloud platform.
Investors who wish to gain exposure to Microsoft can consider investing in the iShares Russell 1000 Value ETF (IWD). Though IWD invests 2.0% of its holdings in Microsoft, it has an exposure of 3.4% to application software.