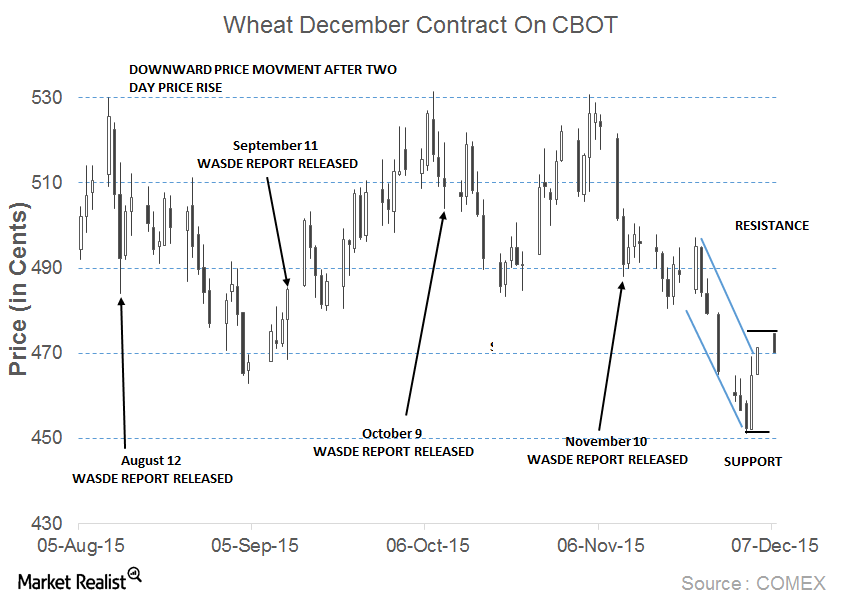 Wheat Prices Traded below the Key Moving Averages
Wheat price trend
December wheat futures prices were trading above the crucial support level of $4.70 per bushel on December 7, 2015. Prices were trading below the key 20-day, 50-day, and 100-day moving averages of $4.81, $4.97, and $4.98 per bushel on December 7, 2015.
The above chart shows that wheat prices could fluctuate between $4.50 and $4.75 per bushel in the near term.
Article continues below advertisement
Price drivers
Longer-than-anticipated favorable weather conditions benefit the wheat crop's development in the US Midwest, US Great Plains, and Russia. This supported the supply sentiment. The US Dollar Index appreciated by 0.47% on December 7, 2015. This hurt the export demand sentiment.
At the current price levels, the domestic commercial interest in the US supported the price sentiment.
Stocks review
The fall in wheat prices negatively impacts food businesses. Food companies like Pilgrim's Pride (PPC) fell by 0.41% on December 7, 2015, for the second consecutive trading day. Hormel Foods (HRL) fell by 0.17% after rising for two consecutive days on December 7. J.M. Smucker (SJM) and General Mills (GIS) rose by 0.43% and 0.10% for the second consecutive day on December 7, 2015. ETFs like the VanEck Vectors Agribusiness ETF (MOO) fell by 0.72% on December 7, 2015. It rose by ~1% on the previous day.