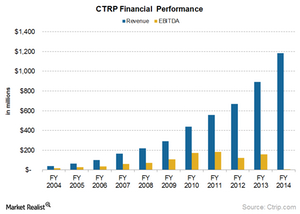 What's Driving Ctrip International's Top and Bottom Lines?
By Ally Schmidt

Dec. 10 2015, Updated 10:06 a.m. ET
Snapshot                        
Ctrip (CTRP) has seen significant growth in both its top line and bottom line over the past few years. This is due to various strategic management decisions to keep the company ahead of its competitors.
Article continues below advertisement
Successful market growth strategies
The company has seen continuous growth in volumes since the last few quarters, which is due to strategies such as low-price ticketing. In order to gain market share in China's fiercely competitive environment, companies have been continually investing in smaller businesses with zero to negative returns.
Ctrip has also been investing in acquiring a number of smaller rivals or other companies that make a good match with its portfolio and that are expected to give positive returns on investments. We discussed some of its key acquisitions in the previous parts of this series. As a pioneer in the online travel agency industry, the company has a first mover advantage and has been successful in gaining huge market share, which has helped catapult it to its position as the only profitable online travel agency in the Chinese market.
Also, the company's focus on individual travelers has helped it gain a better and varied audience consisting of low-, mid-, and high-end travelers. The company distributes the money it generates from mid- to high-end travelers in the development of budget segment offerings.
The company has continually seen double-digit growth in its volumes as well as revenues in the past 12 years. CTRP grew by 73% in 2003 and 93% in 2004, aided by its small base and growing tourism in China. It slowed to ~60% growth in 2005, 2006, and 2007. Since 2008, CTRP has grown at an average rate of ~30%. In 2014, CTRP's revenue grew by 33% to $1,184 million from $890 million in 2013.
Bottom line growth
Along with volume and revenue growth, the company has also been successful in maintaining profit growth up to 2013. CTRP's EBITDA grew by 135% in 2003, gradually reducing to 30% growth in 2013. This was possible due to a highly efficient processing system and skilled employee base. The company has focused on automating its operational processes while maintaining a focused and skilled employee base for special circumstances like disaster management.
But since 2014, CTRP has suffered some losses—mainly on account of its heavy investments. CTRP has been busy acquiring other Chinese OTA players to gain market share. CTRP reported 97% degrowth in EBITDA in 2014.
Ctrip International's (CTRP) US rivals include Expedia (EXPE), TripAdvisor (TRIP), and Priceline (PCLN). Ctrip International (CTRP) is one of the top ten holdings in the CSI China Internet ETF (KWEB), with 9.1% of the portfolio.