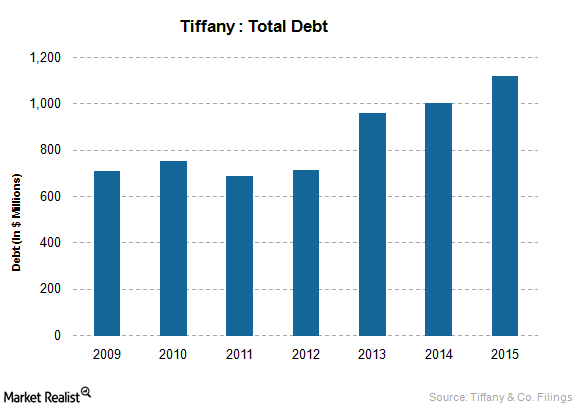 Weighing Tiffany's Debt Burden and Leverage
By Diana Key

Dec. 16 2015, Updated 10:05 a.m. ET
Tiffany's debt burden
Tiffany & Co. (TIF) is a luxury goods retailer with jewelry as a major offering. Tiffany has a strong balance sheet to support its business initiatives and expansion plans.
Tiffany had total debt of $1.1 billion on its balance sheet in fiscal 2015, which for the company ended on January 31, 2015.
Article continues below advertisement
Purpose of debt
During fiscal 2015, Tiffany took advantage of market conditions by issuing $550 million in debt at a significantly lower interest rate to redeem a long-term debt of $400 million.
According to its fiscal 2015 results, 79% of Tiffany's debt is long-term debt, and the company was in compliance with all of its debt covenants. Tiffany's liquidity needs cater to seasonal and expansion-related capital expenditure requirements.
Leverage ratio
At the end of fiscal 2015, Tiffany's total debt represented 39% of shareholder equity. In comparison, its peers in the industry had the following leverage ratios during their comparable fiscal years:
Tiffany had the lowest leverage ratio in comparison with Signet and Fossil. Tiffany, Signet, and Fossil all have exposure in the iShares Russell 1000 Growth ETF (IWF) and the iShares Core S&P 500 ETF (IVV). Together, they form 0.12% of the portfolio holdings of IWF and 0.19% of the holdings of IVV.
IVV measures the performance of the large-capitalization sector of the US equities market, tracking the top 500 stocks. IWF is a growth-oriented ETF.
Article continues below advertisement
Coverage ratio
Tiffany had a total debt-to-EBITDA (earnings before interest, tax, depreciation, and amortization) ratio of 1.0x at the end of fiscal 2015, whereas Signet and Fossil, its largest peers in the retail specialty jewelry industry (XRT), had debt-to-EBITDA ratios of 2.0x and 0.95x, respectively.
Signet's and Fossil's fiscal year-end dates were January 31, 2015, and January 3, 2015, respectively. At the end of fiscal 2014, which for Pandora ended on December 31, 2014, Pandora was debt free.
Financing arrangements with mining and exploration companies
To acquire rights to purchase mining output, Tiffany provides financing to diamond mining and exploration companies. At the end of fiscal 2015, the company had $59 million in receivables under these financing arrangements.