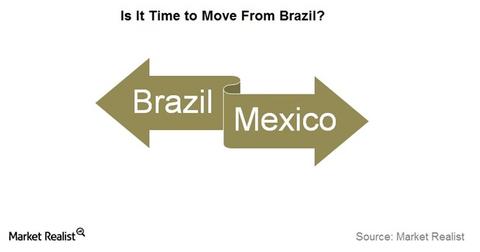 Is There a Way Out for Investors in Brazil-Focused Mutual Funds?
By David Ashworth

Updated
Brazil-focused mutual funds
It seems quite clear that Brazil is, at this point, very far from being an economy that would power world growth. The multitude of problems being faced by the country just increased on the political front, with a plea for impeachment proceedings against its president Dilma Rousseff being accepted. This could just delay any attempts at improving government finances and getting the economy back on track.
But is there a silver lining to all these black clouds?
Article continues below advertisement
The impeachment could be good
Rousseff is not quite the popular president, with her approval rating having plummeted to single digits. Some market participants believe that to oust her from power could actually help Brazil regain political stability.
With economic stability nowhere near the horizon, political stability would at least solve one of the several problems being faced by the nation. Thus, a successful impeachment proceeding could result in further loss of investor confidence initially, but may be helpful in the medium to long term.
What can existing investors do?
Depending on when you invested in the market, your investment could be yielding nothing or a severe loss of invested capital. For emotionally unattached investors who are accepting of losses incurred, it would be advisable to withdraw and live to invest another day. For others, patience is likely the best bet.
Article continues below advertisement
Going forward
At one point in time, whenever Latin America was being discussed, the buck would stop at Brazil. However, this crisis has given other economies from the region, especially Mexico, a chance to attract investor attention.
In our analysis of LatAm-focused mutual funds for October, we showed that some funds have actually invested the lion's share of their assets into Mexican equities rather than Brazilian. The Epiphany FFV Latin America A Fund (ELAAX) is one such fund. It's invested into stocks of companies such as Southern Copper (SCCO), Grupo Aeroportuario del Centro Norte (OMAB), Embraer (ERJ), and America Movil (AMX).
There are, however, a few funds such as the T. Rowe Price Latin America Fund (PRLAX), which, though invested majorly in Brazil, have been able to protect their downsides due to their stock picks.
Brazil's current situation is not for those emotionally attached to their investments. However, if you generally invest for the long term and are fully aware that capital loss is a very real possibility, a Brazil-focused mutual fund managed by an astute manager may still provide value in the longer term.
You can visit out Mutual Funds page for more analysis.