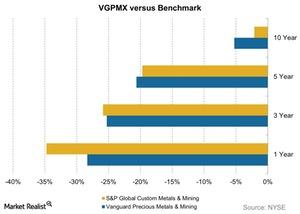 How Has VGPMX Performed Historically Compared to Its Benchmark?
By Ivan Kading

Dec. 12 2015, Published 10:06 a.m. ET
VGPMX versus benchmark
The metal and mining sector are in a bearish trend mainly because of increased investment in production and weak demand from China, a major consumer. The Vanguard Precious Metal and Mining Investment Fund (VGPMX) has observed negative growth in 2015 and is still in a bearish trend. The benchmark index for the VGPMX is the S&P Global Custom Metals and Mining Index. The chart below analyzes the historical performance of the VGPMX with respect to its benchmark.
Article continues below advertisement
The VGPMX and the S&P Global Custom Metals and Mining Index
Though the VGPMX has fallen considerably this year, it has still managed to beat its benchmark index. The benchmark S&P Global Custom Metals and Mining Index, which is primarily invested in precious metals producing and processing firms, is down by almost 35% annually. On the other hand, the VGPMX has fallen by 28.3% in one year. Some of the top mining companies in which the VGPMX is invested in are Agnico-Eagle Mines (AEM), Randgold Resources (GOLD), Blount International (BLT), Newmont Mining (NEM), and Stillwater Mining (SWC), among others.
Low expense ratio
The VGPMX is managed by M&G Investment Management and Randeep Somel, who has more than ten years of experience as a senior analyst. Although alternative mutual funds have higher expense ratios than their traditional counterparts, as they aggressively manage their capital by mimicking various hedge fund strategies, commodities alternative funds have lower expenses. The VGPMX's annual expense ratio is 0.29%, which is lower than most of its peers.
The next article in the series gives a detailed geographical holdings analysis of the VGPMX.