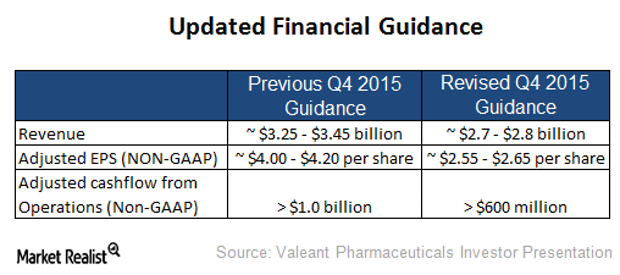 Why Valeant Pharmaceuticals Lowered Its Guidance for 4Q15
By Margaret Patrick

Dec. 21 2015, Updated 7:51 a.m. ET
Financial guidance
On December 16, 2015, Valeant Pharmaceuticals (VRX) downwardly revised its financial guidance for 4Q15. This reduction has been on account of significant disruptions in the company's business, mainly as a result of allegations regarding unfair practices at Philidor Rx Services, the online specialty pharmacy that sold Valeant's drugs.
Compared to the midpoint of the company's previous 4Q15 revenue guidance, the updated 4Q15 revenue forecast midpoint is lower by $600 million. In 4Q15, the company also expects to witness a significant decline in earnings per share (or EPS) and cash flow from operations (or CFO) as compared to its previous projections.
Wall Street analysts have estimated that peer companies Pfizer (PFE), Merck (MRK), and Eli Lilly (LLY) will earn adjusted EPS of $0.52, $0.90, and $0.79 in 4Q15, respectively, which is significantly lower than management projections.
Article continues below advertisement
Philidor separation
On October 30, 2015, Valeant Pharmaceuticals announced that it would cease all its business relationships with Philidor Rx Services. The specialty pharmacy also declared that it would shut down its operations in January 2016.
Philidor Rx Services has been charged with fraudulent billing practices including making changes in prescriptions to dispense costlier Valeant Pharmaceuticals' drugs in place of cheaper generic drugs. The specialty pharmacy has also been accused of obtaining reimbursement from pharmacy benefit managers (or PBMs) such as UnitedHealth Group's OptumCare, Express Scripts, and CVS Health using unfair practices such as resubmitting a rejected prescription claim with national provider identifiers (or NPI) of other partner pharmacies. On October 29, 2015, Express Scripts and CVS Health also terminated their ties with Philidor.
In 2015, Philidor Rx Services accounted for about 5.9% of Valeant Pharmaceuticals' net revenues on a year-to-date basis. To continue to provide access for its patients after the termination of the relationship with Philidor, Valeant Pharmaceuticals provided free prescriptions until November 8, 2015. From November 9 to date, the company has continued to provide drug refills for prescriptions originally handled by Philidor, without seeking reimbursement from health insurers. As a result of this business disruption, Valeant Pharmaceuticals has lost revenues from 20% of its total prescriptions in 4Q15 involving all prescriptions managed by Philidor Rx Services.
Investors can reduce excessive company-specific risks yet participate in the potential upside of Valeant Pharmaceuticals by investing in the Vanguard FTSE All-World ex-US ETF (VEU). VEU invests 0.11% of its portfolio in Valeant Pharmaceuticals.