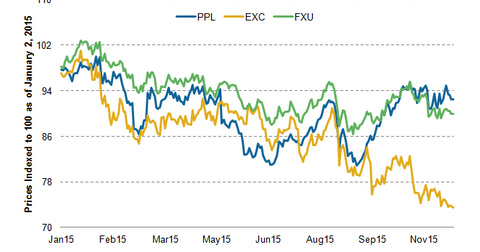 Utilities Continue to Underperform and Exelon Is No Exception
By Vineet Kulkarni

Updated
Exelon at a glance
Exelon (EXC) is a dominant energy player in the US that operates in energy generation, transmission, and delivery. Exelon has a strong presence in 48 states in the US and has a subsidiary operating at every stage of the energy value chain. Exelon Generation has one of the largest power-generating capacities at 32,000 MW (megawatts), consisting of clean and cost-effective fleets.
Exelon Generation operates one of the cleanest power generator fleets, which uses primary energy sources like nuclear, natural gas, wind, solar, and a very minimal amount of coal. The fleet generates more than 50% of its electricity from nuclear energy. It is the nation's largest nuclear power generation fleet and the third largest worldwide.
Article continues below advertisement
Market performance
Utilities attract investors because they offer better capital protection and higher dividend yields. This year, utilities failed to woo investors, as dividends didn't grow and stocks didn't rally. The above chart shows the market performance of Exelon in comparison to that of PPL. Exelon's stock has fallen more than 20% year-to-date. Its competitor PPL (PPL) corrected 6% in the same period.
The Utilities ETF (XLU) gauges the performance of the utilities sector. XLU has lost 8% this year so far as of December 7, 2015. XLU invests 4.8% of its holdings in Exelon. Duke Energy, one of Exelon's large-cap peers, also underperformed with a fall of 10%.
The expected interest rate hike weighed on the stock performance of utilities in 2015. Interest rates could be one of most important indicators of how utilities (IDU) perform in 2016.
In the next article, we will analyze the operational and financial performance of Exelon.