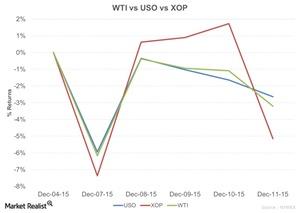 USO Traded Better than WTI and XOP in the Week Ended December 11
By Manu Milan

Updated
Accessibility to WTI crude oil
In the first part of this series, we mentioned that WTI (West Texas Intermediate) crude oil futures fell 5.4% in the week ended December 11 compared to the prices on December 7. Due to leverage and timing issues, futures are complex to trade. So, retail investors can also access WTI crude oil prices through ETFs like USO and XOP.
Article continues below advertisement
About the XOP and USO ETFs
The SPDR S & P Oil & Gas Exploration & Production ETF (XOP) is an equal-weighted index, so the constituent weights of the ETF are in the same range, as many stocks hold 2% in the fund. By taking an equal-weighted approach, the fund can't be influenced by the performance of a single company. And its holdings are diversified from oil and gas exploration to refining companies. In general, more stable performance can be expected from a diversified portfolio.
The United States Oil ETF (USO) holds front-month futures contracts on WTI crude oil, traded on the NYSE (New York Stock Exchange) just like a stock. Energy investors looking for a pure play on WTI crude oil could consider USO an option.
Analogizing the performances
As you can notice from the above graph, USO and WTI followed the same pattern until December 9. After that, USO fell more than WTI on December 10 and continued to fall on December 11. But, in the week ending December 11, WTI fell more than 3% while USO fell just 2.5%. So, in terms of returns for the week ended December 11, USO performed better.
Unlike USO and WTI, XOP is much more volatile and lost more than 7% at the start of the prior week, then gained more than 8% until December 10. XOP again extended its losses to more than 5% for the week ended December 11, 2015. In general, XOP lost nearly 2%–3% more than USO and WTI.
Unlike USO, XOP tracks investments from the downstream and midstream Energy companies as well as integrated oil companies such as Tesoro (TSO), Valero (VLO), Chevron (CVX), ConocoPhillips (COP), and Apache (APA).