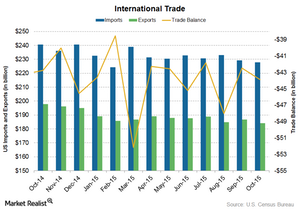 US Trade Deficit Rises as Exports Fell More than Imports
The US trade deficit stood at $43.9 billion in October
International trade plays a crucial role in determining whether the economy is growing or not. Merchandise trade accounted for 23.2% of US GDP in 2014. According to the United States Census Bureau, the goods and services deficit equaled $43.9 billion in October, up $1.4 billion from $42.5 billion in September, revised. In October, imports and exports were $228.0 and $184.1 billion, respectively. With the deficit rising, the SPDR S&P 500 ETF (SPY) and the Direxion Daily S&P500 Bull 3X ETF (SPXL) fell 0.25% and 1.5%, respectively, as of December 4, 2015, over the past month.
Article continues below advertisement
Imports of goods and services
With the US dollar appreciating against major economies, imports are getting cheaper. With a fall in energy prices, import bills of crude fell $1.1 billion in October. Also, imports of goods fell by $1.0 billion to $186.8 billion. The fall was led by a decrease in industrial supplies and materials that fell $2.0 billion in October. Materials stocks such as CF Industries (CF), The Mosaic Company (MOS), and Chicago Bridge & Iron (CBI) fell 3.1%, 0.48%, and 1.2%, respectively, as of December 4.
Exports of goods and services
A strong dollar is playing a spoilsport in US international trade, making exports less competitive in the foreign market. The fall in industrial supplies and materials to the extent of $1.6 billion pulled down exports by $3.1 billion to $123.8 billion in October. Even fuel oil exports continued to fall to 0.4 billion in October. Moreover, financial services and traveling aided exports of services, leading to a rise of $0.4 billion to $60.3 billion in October.
The US dollar has appreciated against major economies, making imports cheaper and exports less competitive. The dollar rose about 3.8% against the Chinese yuan and 10.5% against the euro on a yearly basis. This led to an increase in the deficit with China to $30.2 billion and with the European Union to $13.3 billion in October.
A strong dollar is impacting foreign trade and may further weaken the manufacturing activity that's already showing signs of a slowdown.
With exports cooling off in the United States, let's see how low inflation is influencing policy decisions in the Eurozone in the next article.