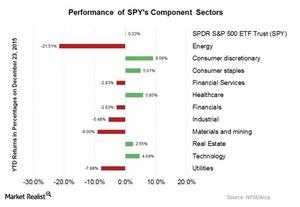 Examining the SPY ETF and how US Stocks Performed in 2015
Foreword
The year 2015 will always be remembered as the year when the historic decision to hike the interest rate took place in the Federal Reserve's December meeting. Many macroeconomic factors contributed to monetary policy stance in the United States. As we enter 2016, let's review how Wall Street and US stocks, represented here by the SPDR S&P 500 ETF (SPY), responded to global events throughout 2015. The following graph illustrates the YTD (year-to-date) performances of the component sectors of the SPDR S&P 500 ETF (SPY) as of December 23, 2015.
Article continues below advertisement
Sector performances
As the SPDR S&P 500 ETF (SPY) rode its rally since Monday, December 21, we'll take a brief look at the past performances of its component sectors in response to various domestic and global economic factors.
As we can see in the graph above, the energy sector, represented by the Energy Select Sector SPDR ETF (XLE), was the biggest drag on SPY, while the consumer sectors, the technology sector, the healthcare sector, and the real estate sector outperformed the SPY ETF in terms of YTD returns. We'll look into the factors that contributed to the performances of these sectors, individually, in the subsequent series.
When we compare the trailing-one-year returns of the constituent stocks of SPY, the top five returns were earned by Netflix (NFLX), Amazon.com (AMZN), HOSPIRA (HSP), NVIDIA (NVDA), and Pall (PLL). These stocks yielded 145.9%, 116.7%, 81.1%, 60.1%, and 56.0%, respectively. Out of these, NFLX, AMZN, and NVDA belonged to the technology sector, HSP belonged to the healthcare sector, and PLL belonged to the industry sector.
Let's take a look at each of these component sectors along with their respective prospects in 2016.