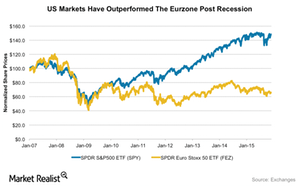 US Markets Have Outperformed European Markets since Recession
By Rebecca Keats

Updated
US stocks have outperformed Eurozone stocks
In this series, we will compare how US markets have performed relative to Europe post-recession with a focus on banks.
The US economy was the central point and the cause of the recession, and thus it was hit the hardest. During the period between September 2008 and March 2009, US stock markets, represented by the S&P 500 SPDR ETF (SPY), plunged nearly 50%. In comparison, Europe was better off with the SPDR Euro Stoxx 50 ETF (FEZ) having lost 40% during the same period. Since then, however, US markets have recovered better than the Eurozone. The SPY ETF has soared 182% while the FEZ has gained merely 45%.
Article continues below advertisement
Much of the underperformance of European stock markets is attributable to weaker regulations compared to the US and the sovereign debt crisis that struck in 2011. Stocks that have partly fueled the rally in US stocks are banks like JP Morgan (JPM), Wells Fargo (WFC), Bank of America (BAC), and Citigroup (C).
Understanding macroeconomic differences
On a macro level, European stock markets have all the characteristics that investors look for. The ECB's quantitative easing program is in the works boosting the Eurozone while the US is contemplating raising interest rates after it has finished its own QE program. However, growth has failed to pick up in the Eurozone while the US economy seems back on track.