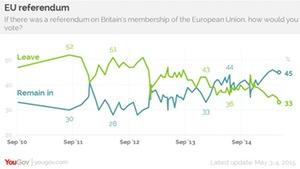 Is the United Kingdom's 2017 Referendum Inevitable?
By Sarah Sands

Dec. 28 2015, Updated 2:06 p.m. ET
Referendum in 2017
The United Kingdom will hold a referendum by the end of 2017. It will decide whether to stay in or leave the EU (European Union). The referendum is a nationwide voting system. Every citizen votes in the referendum.
Article continues below advertisement
Why should there be a referendum?
According to the latest YouGov opinion polls, about 40% of the United Kingdom's citizens want to leave the EU (EZU).
They think that the EU imposes too many rules on doing business.
The EU charges billions of pounds in membership fees every year.
Due to increasing immigration, the jobs for residents in the United Kingdom are reduced. The EU allows people to move freely within the member countries.
The United Kingdom's sovereignty was compromised in recent years. The EU also imposes rules regarding defense, judiciary, and policy making.
Sentiments toward remaining in the EU
The YouGov opinion poll suggests that 38% of the United Kingdom's citizens wants to stay in the EU. The above chart shows the sentiments of the people surveyed regarding the EU referendum.
The benefits of staying in the EU include:
Trade barriers are minimum for selling goods and services to other European nations.
These groups of people think that immigration isn't a great issue. If there's a huge movement of young talent in the country, then it will help in economic development.
They think that exiting the EU will diminish the United Kingdom's global political and economical status.
Most of the FDI in the United Kingdom is from the other EU nations. This could be hampered in the case of a Brexit.
According to Ernst & Young's 2015 European attractiveness survey, the United Kingdom's financial sector attracted the highest FDI in 2013. The large-cap financial sector companies are HSBC (HSBC), Barclays (BCS), Lloyds Banking Group (LYG), and Royal Bank of Scotland (RBS). Together, they account for the major holdings of the iShares MSCI United Kingdom Index ETF (EWU) in the financial sector.
In the next part, we'll analyze the trade relationship between the United Kingdom and the EU.