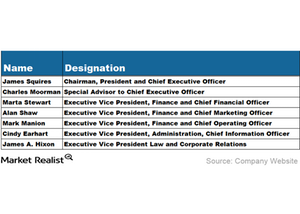 Turnover in Norfolk Southern's Top Management in 2015
By Samuel Prince

Dec. 4 2020, Updated 10:52 a.m. ET
Top management
In 2015, Norfolk Southern Corporation (NSC) witnessed numerous changes in its executive management ranks due to either retirement or promotion. The company's updated executive management follows:
Article continues below advertisement
James Squires, the new chairman and CEO 
In October 2015, James A. Squires became the new executive chairman of Norfolk Southern Corporation. He succeeded Charles Moorman, who completed his term in September 2015.
A US Army veteran, Squires joined the company in 1992 and became senior general counsel in 2002. After serving as senior vice president and executive vice president in several finance- and legal-related capacities, he became president of the company in 2013. Squires became the CEO of Norfolk Southern in June 2015.
Charles Moorman, the former chairman and CEO
Charles "Wick" Moorman joined NSC's predecessor Southern Railway in 1970 as an intern. After advancing through the company's ranks, Moorman became NSC's chairman, president, and CEO in 2006. He led the company with the public-private partnerships model to establish rail infrastructure.
Moorman spearheaded NSC's involvement in the Heartland corridor, which connects Norfolk to Chicago. It included 53 project sites along 379 miles of railroad, and Moorman worked with the state governments of Virginia, West Virginia, and Ohio, as well as the federal government.
Article continues below advertisement
During his tenure, NSC achieved its lowest operating ratio of 69.2% and record operating income and net income of $3.6 billion and $2.0 billion, respectively, in 2014. In recognition of his contributions to Norfolk, the company renamed its largest freight train classification yard at Bellevue, Ohio, in his honor.
Other executives
Marta Stewart joined Norfolk Southern in 1983 and worked in various finance positions before being named executive vice president, finance and chief financial officer.
Alan Shaw serves as NSC's executive vice president and chief marketing officer. He handles coal marketing operations, general merchandise, and the intermodal department. He joined the company in 1994.
Mark Manion joined Southern Railway in 1975 and served in various operational positions before being named executive vice president and chief operating officer.
Cindy C. Earhart became executive vice president, administration and chief information officer in October 2015. Earhart joined NSC in 1985 as an accounting supervisor.
The board of directors of NSC comprises:
T.D. Bell Jr.
E.B. Bowles
R.A. Bradway
W.G. Bush
D.A. Carp
K.N. Horn
S.F. Leer
M.D. Lockhart
A.E. Miles
C.W. Moorman
M.H. Nesbitt
James A. Squires
J.R. Thompson
CSX Corporation (CSX), Kansas City Southern (KSU), Union Pacific Railway (UNP), Canadian National Railway (CNI), and Canadian Pacific (CP) are NSC's major competitors.
You can gain diversified exposure to NSC through the iShares Transportation Average ETF (IYT), which holds 7.39% of its portfolio in the company. The SPDR S&P 500 ETF (SPY) holds 0.15% of NSC and the Vanguard Dividend Appreciation ETF (VIG) holds 0.69% of its portfolio in the company.