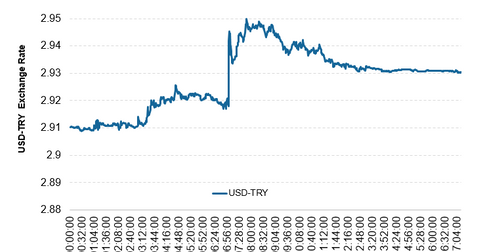 Turkish Lira Fell as the Central Bank Holds Rates
By David Meyer

Updated
Turkish lira fell
The Turkish lira fell against the US dollar on December 22, 2015. It fell after an unexpected move by the Turkish central bank. It kept the interest rates steady at 7.5% amid the expectation of a hike by 50 basis points. The overnight lending rate was kept at 10.8%, as expected. Previously, the central bank stated that it would raise the rates in tandem with the Fed. However, Governor Erdem Basci wants to see if the reduced volatility persists after the liftoff by the Fed. President Erdogan is the leader of Turkey's ruling party. He's against a rise in the policy rates. This led to speculation that political controls impacted the central bank's decision.
Article continues below advertisement
Economic indicators aren't looking good
The Turkish economy has been suffering from slow growth. The economy expanded by 1.3% on a quarterly basis in the third quarter. The unemployment rate remains high at 10.3%. The inflation rate stood at 8.1% in November. It was also on the higher side. The current geopolitical issues have been weighing on the Turkish lira. The tensions have been mounting with Russia. The lira is expected to trade lower until investors see solid steps by the central bank to combat low economic growth and rising inflation.
Impact on the market
The iShares MSCI Turkey ETF (TUR) fell by 0.40% on December 22, 2015. On the broad-based side, the iShares MSCI Emerging Markets (EEM) was on a positive bias. It rose by 0.80%.
In terms of ADRs (American depositary receipts) trading in the US, Turkcell Iletisim Hizmetleri (TKC) fell by 2.3%. Russian ADR Mobile TeleSystems (MBT) fell by 0.16%. Spanish bank Banco Santander (SAN) ended on a higher note by 1.7%.