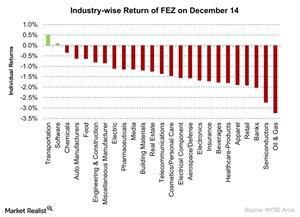 Transportation and Software Industry Led FEZ
Transportation industry
Among all of the industries of the SPDR Euro Stoxx 50 ETF (FEZ), the transportation industry provided the highest positive return of 0.5% on December 14, 2015. Transportation stock Deutsche Post provided 0.5% on the same day. The transportation industry will be the direct beneficiary of low crude oil prices.
Article continues below advertisement
Software industry
The software industry provided the second-highest return of 0.11% on December 14, 2015. Software stock SAP (SAP) contributed a 0.11% return on the same day.
Oil and gas industry—the biggest loser
Banking industry
The banking industry fell by 2% on December 14, 2015. Stocks like Unicredit (UNCFF), Banco Santander (SAN), and BNP Paribas fell by 3.2%, 3.5%, and 2% on the same day. Financial sectors are very sensitive to monetary policy measures. The finance stocks yielded negative returns ahead of the Fed's meeting. The probability of a rate hike is high. However, investors seem cautious about the gradual increase in the interest rate. It may not be more than ten basis points, according to experts.
In the next part, we'll analyze the performance of FEZ's top performers on December 14.