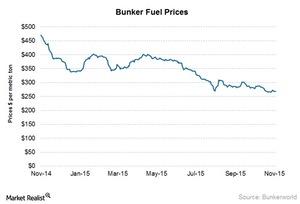 Time Charter Rates Fell at the End of November
By Sue Goodridge

Dec. 4 2020, Updated 10:52 a.m. ET
Time charter rates
The time charter rates for one year on VLCCs (very large crude carriers) fell to $43,000 per day on November 25—compared to $45,500 per day the previous week. The two-year time charter contract rates also fell. On the other hand, the three-year and five-year time charter contract rates remained constant from the previous week.
Under time charter contracts, vessels are hired for a specific period at a pre-decided daily rate. Rising time charter rates give a brighter outlook for the crude tanker industry and vice versa.
Article continues below advertisement
Bunker fuel prices
Bunker fuel prices, the biggest cost to run a ship, are correlated to crude oil (DBO) prices. Crude oil prices had slight ups and downs in the week of November 23–27. The prices remained almost constant near $44.8 per barrel.
For the same period, the average bunker fuel prices also saw slight ups and downs. The prices closed at $216 per metric ton on November 27—compared to the opening price of $221 per metric ton on November 23. The average price in November was $228 per metric ton. This is lower than October's average fuel price of $242 per ton. Lower bunker prices reduce the costs and increase the profits for companies like Teekay Tankers (TNK), Tsakos Energy Navigation (TNP), Frontline (FRO), Nordic American Tanker (NAT), DHT Holdings (DHT), and Euronav (EURN).
Oil price expectation
Weak demand cues from China weighed down crude oil prices. The EIA (U.S. Energy Information Administration) published its STEO (Short-Term Energy Outlook) report on November 10, 2015. Last month, the EIA forecast that Brent crude oil prices would average $54 per barrel in 2015.
In November's report, the forecast didn't change. However, the EIA lowered its crude oil price forecast by $2 per barrel for 2016. Now, the forecast for 2016 stands at $56 per barrel.