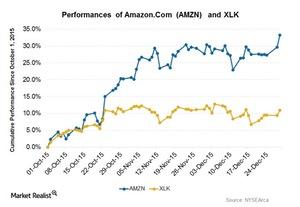 Technology Sector Rallied on Advances in Amazon and Qualcomm
Technology sector
The Technology Select Sector SPDR ETF (XLK) surged 1.4% and emerged as the second leading component sector of the SPDR S&P 500 ETF (SPY) on December 29. The technology sector was one of the best-performing sectors in 2015. The following graph presents the price movement of Amazon (AMZN) and XLK since October 2015.
Due to the holiday shopping season, Internet stocks got investors' attention. The online shopping websites are busy during the season and the rise in consumer confidence level affirmed that consumers are spending plenty this December. Therefore, Amazon (AMZN), Alphabet (GOOG)(GOOGL), eBay (EBAY), and Tripadvisor (TRIP) surged 2.8%, 1.9%, 1.5%, 1.0%, and 1.5%, respectively, on December 29.
Article continues below advertisement
Other technology stocks that rallied on the day included stocks of Yahoo! (YHOO), Facebook (FB), and Apple (AAPL). These stocks gained 1.3%, 1.3%, and 1.8%, respectively, on the day. The beta value for the technology stocks is either less than one or confined to values that are close to one. Thus, these stocks are not very volatile stocks and they move on the grounds of new inventions, earnings results, corporate actions, or strategic advantages.
Semiconductors rally
Qualcomm (QCOM) surged 2.6% on December 29 after the company announced that it had signed a 3G and 4G Chinese patent license agreement with Beijing Tianyu Communication Equipment company. The deal granted the Chinese company, a royalty-bearing patented license, to manufacture and sell 3G and 4G subscriber units in China. The deal is a win-win situation to both the companies. Following the suit, stocks of other semiconductor companies like NVIDIA (NVDA), Applied Materials (AMAT), Analog Devices (ADI), Microchip Technology (MCHP), and Intel (INTC) rallied on the day. These stocks gained 1.6%, 1.4%, 1.5%, 1.3%, and 1.5%, respectively, on December 29.
In the next article, let's look into the healthcare and the energy sector performances on the day.