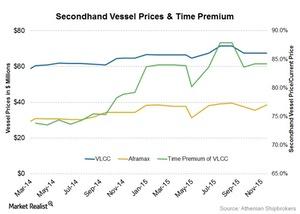 What Tanker Vessel Prices Say about the Industry Outlook
By Sue Goodridge

Jan. 8 2016, Updated 3:05 a.m. ET
Newbuild prices
Newbuild vessel prices for VLCCs (very large crude carrier) in November have remained constant from the last month while the Suezmax prices saw a slight decline. In spite of the increase in demand for tankers, vessel prices have remained depressed due to lower steel prices and slack in yard utilization.
According to data from Athenian Shipbrokers for November, newbuild prices were as follows:
$95 million for VLCC (very large crude carrier), constant from October
$63.5 million for Suezmax, down from $64.1 million in October
$52.5 million for Aframax, constant from October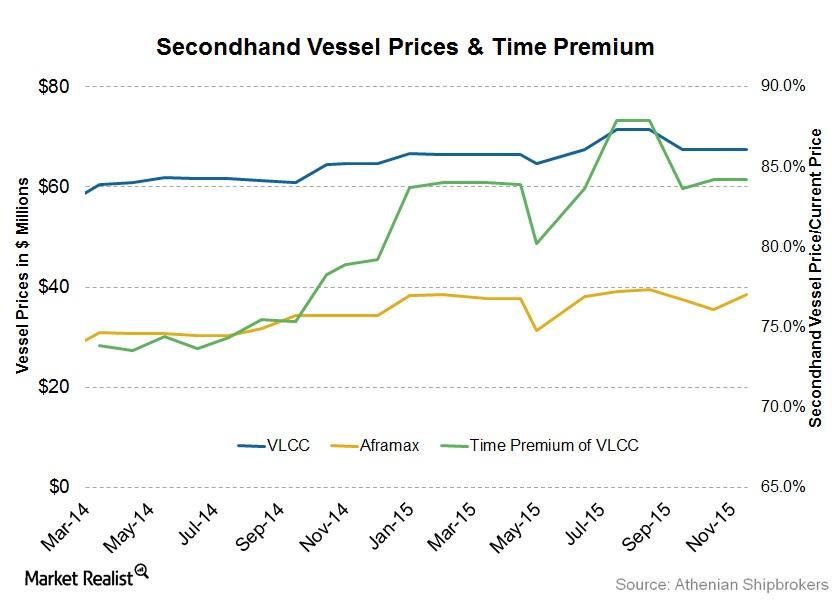 Article continues below advertisement
No change in secondhand prices
Five-year and ten-year VLCC values for November 2015 were $80 million and $55 million, respectively. Prices have remained unchanged for the past three months. Secondhand vessels are delivered faster than newbuilds. It's important to note that newbuilds take at least two to three years to build. Secondhand prices tend to be more responsive to changes in the current rates because they're more responsive to industry turnarounds than newbuilds. So, secondhand vessel prices can give a good sense of the short-term to medium-term outlook.
Time premium
Time premium is calculated as a ratio of secondhand tanker value to the current newbuild price. We've taken the five-year vessel value as a proxy for secondhand prices. Assuming vessel life is 25 years, a five-year vessel would be worth 80% of the newbuild price.
If industry participants have a positive outlook for the industry in the short- to medium-term, they'll pay a premium on secondhand vessels to obtain ships immediately. In contrast, if the outlook is negative, assets will be valued less.
In November, the ratio remained constant at 84.2%, which is still well above 80%. Freight rates remained attractive, and lower bunker fuel costs boosted profit margins. For these reasons, crude tanker companies are ready to pay premiums to obtain additional fleet immediately. This indicates a bright short-term outlook for companies such as Frontline (FRO), Nordic American Tankers (NAT), Teekay Tankers (TNK), Euronav (EURN), DHT Holdings (DHT), and Tsakos Energy Navigation (TNP).
Investors who are interested in broad exposure to industrial stocks can invest in the SPDR Dow Jones Industrial Average ETF (DIA).