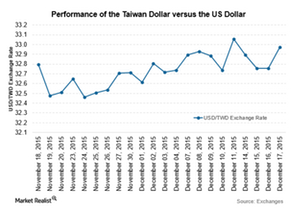 The Taiwan Dollar Keels as Taiwanese Central Bank Cuts Rates
By David Meyer

Nov. 20 2020, Updated 10:58 a.m. ET
Taiwan dollar falls on rate cut by 12.5
The Taiwan dollar depreciated against the US dollar on December 17, 2015, as the Taiwan Central Bank cut interest rates for the second time in three months. The nation's central bank would like to take advantage of the less aggressive reaction in Asia after the US FOMC's (Federal Open Market Committee) decision. Inadequate growth in the Asian economy also contributed to the Taiwan Central Bank's rate cut. Further depreciation in the Taiwan dollar can be expected as the central bank moves toward easing the monetary policy to stimulate growth.
Article continues below advertisement
Rate cut comes amid slowdown across China
Taiwan's policy rate cut came in at 12.5 basis points in an effort to get the interest rate to 1.63% from 1.75%. Sliding exports have been hurting the Taiwanese economy, and so the rate cut is expected to help the economy in recovering from recessionary pressures.
Meanwhile, data on the Chinese front is pointing toward a slowdown in Taiwan's biggest export market, and this weighed on the sentiment toward the Taiwan dollar on December 17. Overseas shipments from Taiwan have been on a downward trend while the economy has shrunk by approximately 0.6% over the last fiscal quarter.
The Taiwan dollar's impact on the market
Now let's look at the performance of exchange-traded funds on December 17, 2015. The iShares MSCI Taiwan ETF (EWT) ended on a low note, falling by 0.75% on December 17. But the iShares Asia 50 ETF (AIA) also decreased on the day by 1.5%.
But Taiwanese ADRs (American depositary receipts) were telling a different story. Advanced Semiconductor Engineering (ASX) was trading higher, by 0.53%, on December 17. On the other hand, United Microelectronics (UMC) and AU Optronics (AUO) ended on a negative trajectory, falling by 2.0% and 1.9%, respectively.
Last but not least, let's look at what happened in Russia, where the ruble fell to all-time lows, on December 17, 2015.