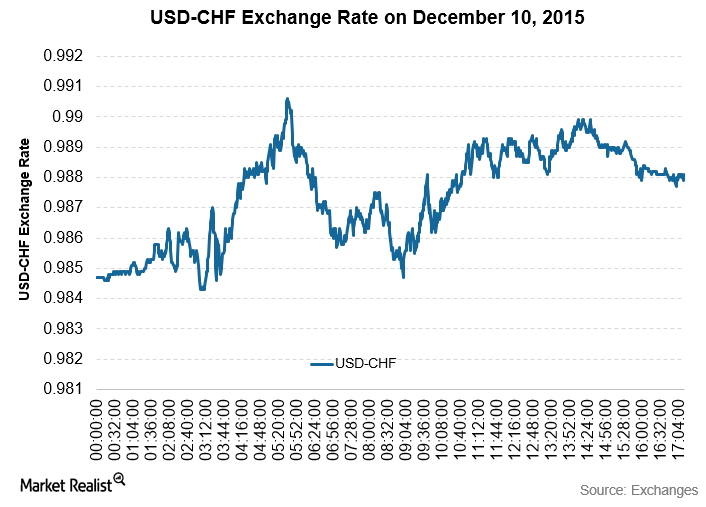 Swiss Franc Fell after Swiss National Bank Maintained Rates
Swiss franc depreciates by 0.52%
The US dollar to the Swiss franc currency pair, which is inversely related to the Swiss franc, rose on December 10, 2015. The currency pair went to a high of 0.991 before closing the day at 0.988. The pair seems to have taken a negative cue from the Swiss National Bank monetary policy release.
Article continues below advertisement
Swiss monetary policy
The Swiss National Bank (or SNB) published its monetary policy on December 10, 2015. The SNB maintained its expansionary policy with the target range for the LIBOR (London Inter Bank Offer Rate) between -1.25% and -0.25%. The SNB also decided to keep the interest rates unchanged at -0.75%. The negative interest rate is expected to keep the currency less attractive as the SNB believes that the Swiss franc is overvalued. The inflation forecast for the current year came out at -1.1%. 2016 and 2017 forecasts were -0.5% and 0.3%, respectively. The SNB revised its growth forecast slightly towards the lower side. The 2015 growth forecast was just under 1% while in 2016 the SNB expects growth to be approximately 1.5%.
Impact on the market
Looking at Swiss ETFs, the iShares MSCI Switzerland Capped ETF (EWL) fell by 0.16% on December 10, 2015. On the other hand, the Guggenheim CurrencyShares Swiss Franc ETF (FXF) fell by 0.40%.
Swiss ADRs (American depositary receipts) were trading on a negative note, and ABB (ABB) fell by 1.1%. Logitech International (LOGI) fell by 0.92% and Credit Suisse Group AG (CS) was trading lower by 0.77% on December 10.