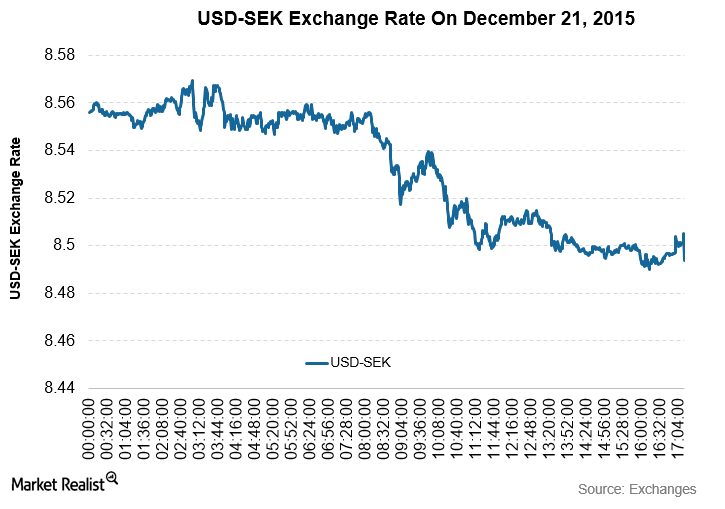 Swedish Krona Rose as Economic Confidence Improved
Confidence indices beat forecasts
The Swedish krona appreciated against the US dollar by more than 0.5% on December 21, 2015. Economic confidence indices released above the expectations in December, as published by the NIER (National Institute of Economic Research). The gain in the Swedish krona made an upward move as Business Confidence improved for the sixth straight month to 112.3 in December from 110.2 in the previous month. Data showed that companies were optimistic for business growth due to increased confidence in the construction, manufacturing and retail segments. On the other hand, Consumer Confidence rose to 98.7 in December. It beat the expectations of 97.3. It was 96.4 in November.
Article continues below advertisement
Danish consumer confidence rose
Consumer confidence in Denmark rose to 6.1 for December—compared to 5.6 in November. The Danish krone also appreciated against the US dollar on December 21, 2015, due to the improved confidence. Weakness in the US Dollar Index contributed to the gain in the Danish krone and the Swedish krona. The Swedish krona is part of the basket of currencies that forms the US Dollar Index. The index measures the strength of the US dollar against its peers.
Impact on the market
The iShares MSCI Sweden ETF (EWD) trades on the NYSE. It rose by 1.3% on December 21, 2015. The iShares MSCI Denmark Capped (EDEN) was also trading on a positive bias. It rose by 0.24%.
Among the Danish ADRs (American depositary receipts), Novo Nordisk B (NVO) rose by 1.2% while Swedish ADR, Ericsson (ERIC) ended on a positive note by 4.2%. Among other Scandinavian ADRs, Norwegian petroleum company Statoil ASA (STO) fell by 1.3%. Fisheries major Marine Harvest (MHG) fell by 0.39%.