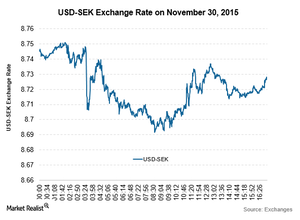 Swedish Krona Rises on Strong GDP Data
Swedish krona rises as data point toward economic strength
The Swedish krona strengthened against the US dollar on November 30, 2015, as growth in the third quarter GDP (gross domestic product) rose past expectations, signaling increasing strength in the economy. The weaker Swedish krona has boosted export sentiment and has led to increased competitiveness across the country's manufacturers.
The Swedish krona also gained against the euro as the common currency prepares for the ECB (European Central Bank) monetary policy on December 3, 2015. The Riksbank's rate decision is scheduled for mid-December near the US FOMC (Federal Open Market Committee) meeting and is expected to be a volatile period for the Swedish krona.
Article continues below advertisement
Third quarter GDP beats estimates
GDP growth in the third quarter for Sweden stood at 3.9% on a YoY (year-over-year) basis, beating forecasts and the previous quarter's growth of 3.4%. On a QoQ (quarter-over-quarter) basis, GDP growth stood at 0.8% in the third quarter against 1% in the previous quarter and forecasts of 0.4%.
Last week, releases from the economic front were at a mixed note for the Swedish krona, as retail sales beat estimates and producer prices corrected lower for the month of October. Manufacturing PMI (Purchasing Managers' Index) also released higher in the month of November, increasing the gains in the Swedish krona.
Impact on the market
The iShares MSCI Sweden ETF (EWD), which trades on the New York Stock Exchange, rose 1.0% on November 30, 2015. The WisdomTree Europe Hedged Equity ETF (HEDJ) was also trading on a positive bias and rose 0.38%.
The Swedish ADR (American depositary receipt) LM Ericsson Telephone Company (ERIC) ended the day 1.3% higher. Among other Scandinavian ADRs, petroleum company Statoil ASA (STO) rose 0.07%, while fisheries major Marine Harvest (MHG) rose 0.75%.