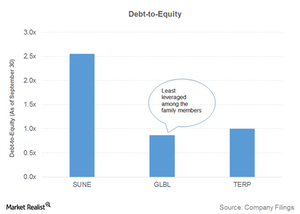 Is SunEdison Caught in a Debt Trap?
By Mike Sonnenberg

Dec. 17 2015, Updated 1:05 a.m. ET
Debt
So far in this series, we've looked at operating metrics, liquidity, and fixed assets for SunEdison (SUNE) and its family, including TerraForm Power (TERP) and TerraForm Global (GLBL). Without discussing debt and related metrics, we can't test the hypothesis in the series title properly. The most important reason for the recent fall in SunEdison's stock price is  leverage.
Article continues below advertisement
SunEdison's debt profile
On a consolidated basis, SunEdison (SUNE) had total debt of $11.7 billion as of September 30, 2015. $1.2 billion out of this was on TerraForm Global's balance sheet while another $2.5 billion was sitting on TerraForm Power's balance sheet, leaving $7.9 billion in debt for SunEdison and its other non-public subsidiaries. On a consolidated basis (including TERP and GLBL), SunEdison's debt-to-equity ratio stood at 2.6x compared to GLBL's 0.9x and TERP's 1.0x. Due to the large presence of intangibles, the debt-to-tangible-equity ratio is expected to be significantly higher for SunEdison.
What does this mean?
SunEdison holds much higher leverage on its balance sheet than its yieldcos. Moreover, the company's tangible net worth (before non-controlling interest) remains negative, meaning that liabilities are more than tangible assets. This isn't a good sign for SunEdison. If the Vivint Solar (VSLR) deal goes through, it will add to the company's leverage.
The yieldcos are in much better financial position, as you can see from their moderate debt-to-equity ratios. However, TERP may see rising debt if a Vivint Solar (TAN) deal goes through, as TERP is expected to acquire Vivint Solar's residential solar portfolio.