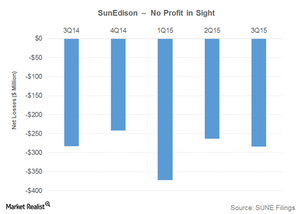 SunEdison Keeps Crashing and Burning—Now Even Faster
By Mike Sonnenberg

Dec. 9 2015, Published 4:05 p.m. ET
Value investing
Before we begin with our analysis, here's a heads-up about what value investing is and what it isn't. Value investing is based on the investing philosophy of Benjamin Graham and David Dodd and popularized by investors including Warren Buffett. It seeks to find and gain from underpriced securities based on fundamental analysis. While won't strictly go by the methodology set by Benjamin Graham or Warren Buffett, our analysis will focus on the balance sheet—a key consideration for value investors.
SunEdison (SUNE) has two publicly traded subsidiaries. It offers us the opportunity to analyze each company separately, aiding our quest for value.
Article continues below advertisement
SunEdison and subsidiaries: Net income
Profitability is a key sign of healthy companies. However, SunEdison and both of its public subsidiaries reported net losses in 3Q15. SunEdison (SUNE) reported $284 million, or $0.91 per share, in net losses. The company has reported net losses every quarter in the last 12 quarters, partly due to high interest expenses and partly due to operating inefficiencies. In 3Q15, general and administrative (or G&A) costs rose more than revenues—not a healthy sign for any company. TerraForm Global (GLBL) reported $1 million in net losses in 3Q15 while TerraForm Power (TERP) reported $0.8 million in net losses during the quarter. Other solar (TAN) peers, including FirstSolar (FSLR) and SunPower (SPWR), have reported net income in 3Q15.
SunEdison and subsidiaries: Cash flows
While net profitability is important, free cash flow is an even more important measure for companies. It shows cash generation abilities.
SunEdison (SUNE) has been burning free cash every quarter for the past 16 quarters. In 3Q15, SunEdison burned over a billion dollars of free cash. Out of this total, TerraForm Global (GLBL) burned over $100 million in 3Q15 while TerraForm Power (TERP) reported a positive free cash flows of $70 million. So most of the cash was at the sponsor (SUNE) level.