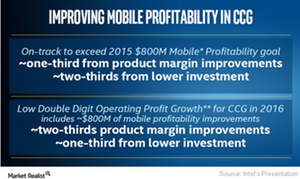 How Successful Will Intel's Mobile Strategy Be?
By Puja Tayal

Updated
Intel's mobile strategy
In the last part of the series, we saw that Intel (INTC) is depending on its low-cost SoFIA (Smart or Feature phone with Intel Architecture) products to reduce mobile losses. Now, we'll discuss the opportunities and limitations of Intel's mobile strategy.
Article continues below advertisement
The fall of contra revenue
Intel entered the mobile segment late with its SoFIA products for low-end tablets and the Bay Trail platform for high-end tablets. To make its stand in the market, the company adopted the contra-revenue strategy. It sold 46 million tablet processors in fiscal 2014.
In contra revenue, Intel sold its tablet processors to OEMs (original equipment manufacturers) at subsidized rates. This resulted in a loss of $4.2 billion for MCG (mobile computing group) in fiscal 2014. This means an ~$1 billion loss every quarter. In fiscal 1Q15, the company merged MCG into PCCG (PC client group). It promised to reduce the losses by $800 million in fiscal 2015.
Intel started to withdraw contra revenue. This slowed the pace of sales. The company sold 26 million tablet processors through fiscal 3Q15. It expects to only sell 4 million tablet processors in fiscal 4Q15—down 75% YoY (year-over-year). Now, with contra revenue gone, the company doesn't have many ongoing sales.
Is Intel's SoFIA competitive? 
With little success from contra revenue, Intel resorted to improving its product margin on the sale of its SoFIA products. However, the products are at a dead end.
Phone manufacturers Apple (AAPL) and Samsung (SSNLF) use custom SOCs (system on chips). Intel's latest 14nm Atom X7 tablet processor failed to compete with these custom SOCs. In the commodity processor space, Qualcomm (QCOM) dominates with its ARM architecture processors. It has a cost advantage over Intel's mobile chips.
Even when Intel is lagging behind in terms of technology, the company is reducing the spending that's necessary to be competitive. It looks like the company is backing away from the mobile market.
The SPDR S&P 500 ETF (SPY) has exposure in some profitable mobile semiconductor vendors like 0.45% in Qualcomm and 3.7% in Apple.
Mobile and computing accounts for ~60% of Intel's revenue. If it won't drive the revenue, then what will? We'll discuss this question more throughout the series.