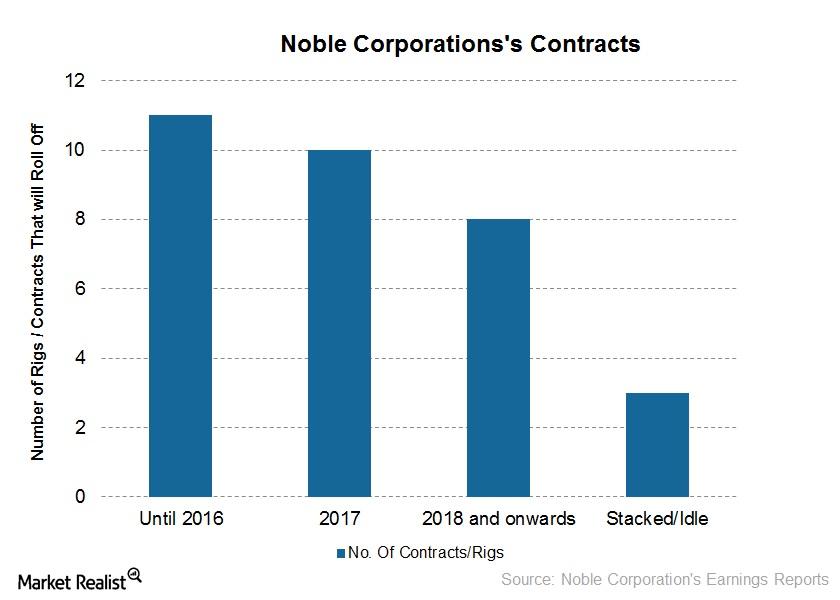 Improper Stacking Can Weigh Negatively on Noble Corporation
Contracts rolling in 2016
Out of the total 32 rigs that Noble (NE) operates, 29 are currently contracted. In 2016, 11 contracts out of the 29 will expire. That's 34% of the fleet, so it's important to see if these rigs have further re-work prospects or if the company eventually stacks them.
Article continues below advertisement
Work prospects
The company's contracts on two semisubmersibles working in the Gulf of Mexico will expire in January 2016. The company believes that it's very challenging to secure work for these rigs. The company firmly said that even if the rigs secure work, there would still be a gap between two programs. So, Noble could experience a lot of idle time on these rigs.
The semisubmersible Clyde Boudreaux is completing work in December 2015 for Shell in Australia and Amos Runner. The company stated that there are opportunities, but the outcome of these opportunities can't be predicted. Similarly, Noble is marketing two more rigs but accepts that the work prospects are very scarce.
Stacking
The company currently has two rigs idle and plans to warm-stack one of them. This would for a total of two stacked rigs and one idle rig. Cold-stacking rigs reduces costs much more than warm-stacking them. The company seems to be quite reluctant to cold-stack its idle rigs.
Currently, the company doesn't have any firm prospect of new contracts for any of its rig. Also, it doesn't have plans to stack these rigs coming out of contract. If the company doesn't stack these rigs and keeps them idle, then that would weigh heavily on the cost side of the company as it would bring down EBITDA[1. Earnings before interest, tax, depreciation, and amortization] and profit margins.
As the industry remains challenged, companies need to think very realistically about the work prospects and take the right decision on stacking rigs or idling them. Stacking reduces the company's operating costs substantially, but once rigs stacked, it becomes tough to market them.
A common practice for offshore drillers (IYE) is stacking rigs that don't have work prospects. This includes Seadrill (SDRL), Ocean Rig (ORIG), Transocean (RIG), Atwood Oceanics (ATW), Rowan Companies (RDC), Ensco (ESV), and Diamond Offshore (DO).