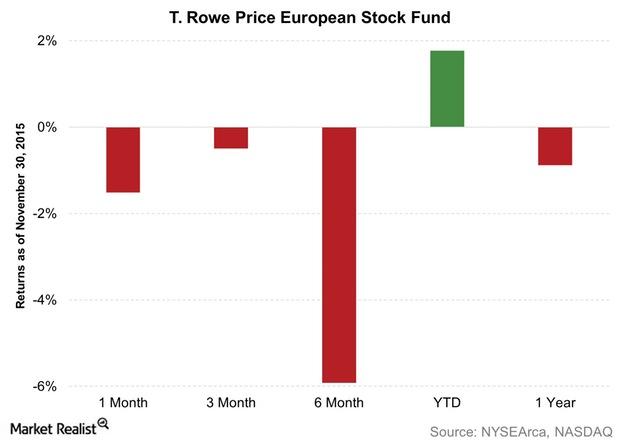 Stock Picks across Sectors Held PRESX Back in Year-to-Date 2015
Performance evaluation
The T. Rowe Price European Stock Fund (PRESX) was down 1.5% in November 2015 from a month ago. In the three- and six-month periods ended November 30, the fund fell 0.5% and 5.9%, respectively.
In the trailing-one-year period, the fund has returned -0.9% while from November's end until December 22, the fund has fallen 5.0%. In the YTD (year-to-date) period, the one we'll be analyzing, the fund is up by just 1.8%.
The fund has not had a good year so far. For the YTD period ended November 2015, the fund was the second-worst performer among the ten funds in this review.
Let's look at what has contributed to this poor performance.
Article continues below advertisement
Portfolio composition and contribution to returns
The PRESX has the second-longest track record among the ten funds in this review, having begun in February 1990. According to its latest geographical disclosure, companies from the United Kingdom, Switzerland, and Germany are the top three invested geographies, in that order.
The latest complete portfolio available for the fund is as of September 2015. Hence, we will take that portfolio as our base and consider valuation changes as they stand at the end of November 2015 for our analysis. All portfolio percentages mentioned from here on refer to their weights as per changes in valuation from September to November.
The information technology sector, which forms 7% of PRESX's assets, emerged as the biggest positive contributor to the fund's returns for the YTD period up to November 2015. Denmark-based SimCorp was the main reason why the sector was able to contribute the most to the fund's returns.
Even though financials occupied over one-quarter of the portfolio, they emerged as a distant second positive contributor to returns. Intesa Sanpaolo (IITSF) led the list of positive contributors, which included Italy's Mediolanum and Switzerland's UBS Group (UBS). However, the sector's overall positive contribution was sharply reduced by negative contributions from The Royal Bank of Scotland Group (RBS) and several others.
The energy and materials sectors emerged as sizable negative contributors, further hurting the fund's returns. Energy was pulled down by Royal Dutch Shell (RDS.B), while materials were pulled down by Johnson Matthey and BHP Billiton (BHP).
Some other major negative contributors were Burberry Group (BURBY), Schneider Electric, and SSE.
Reasons for poor performance
Several badly-performing stock picks across the sectors were responsible for the poor showing by the fund. Energy and materials sector stocks contributed to further hurting PRESX's returns. It'll be interesting to see if fund management decides to churn its portfolio given the poor showing.
We'll look at the Franklin Mutual European Fund Class A (TEMIX) in the next article.