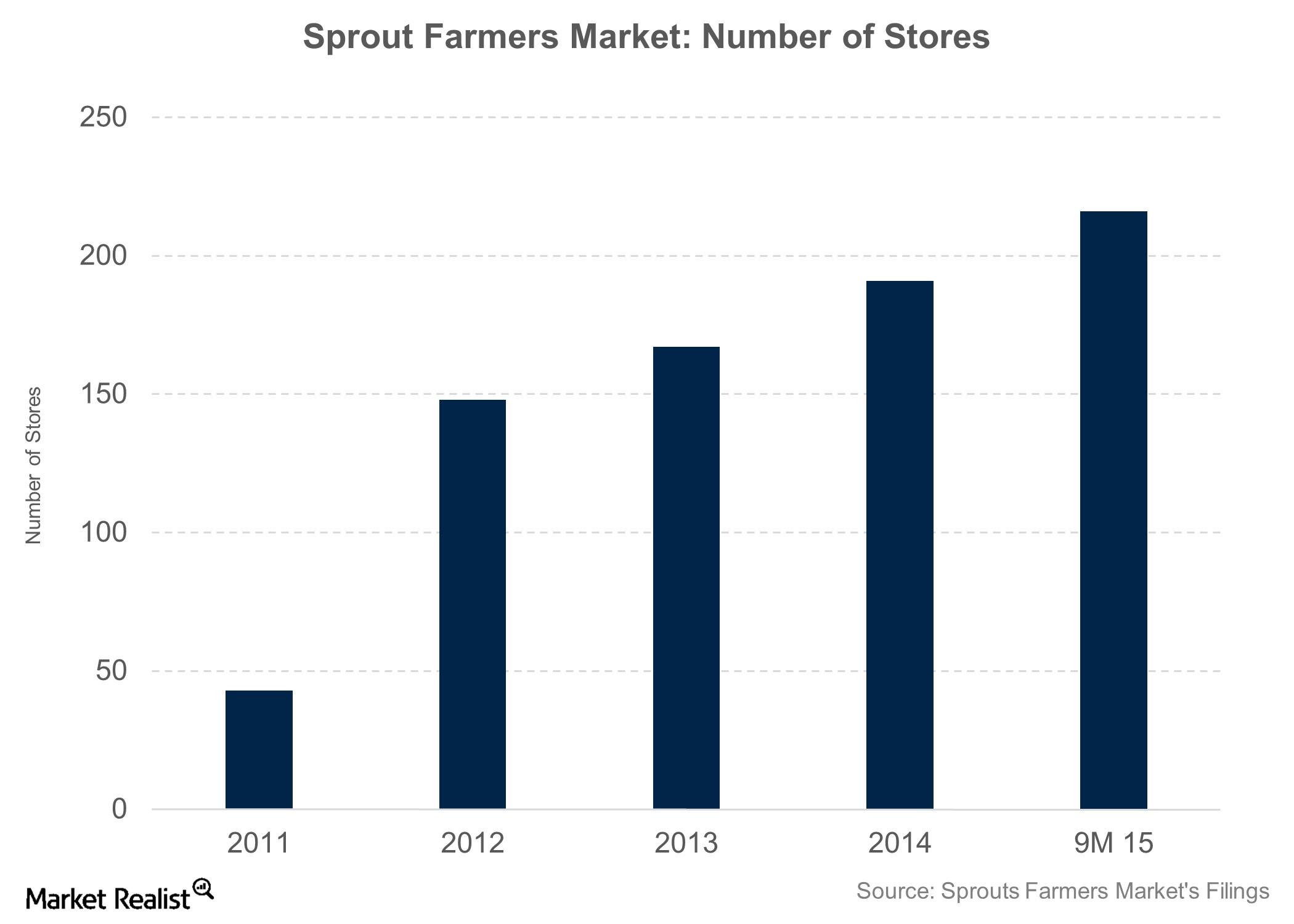 Sprouts Farmers Market to Follow a Rapid Expansion Strategy
Sprouts focuses on expanding its store base
As of November 5, 2015, Sprouts Farmers Market operated 216 stores in thirteen US states. The company feels that it has enough room for expansion and anticipates its store count to increase six-fold, reaching 1,200 in the US market.
The company plans to achieve a 14% annual new store growth over the next five years. It opened 24 and 19 stores in fiscal 2014 and 2013, respectively, and has opened 26 stores by the third fiscal quarter of 2015. The company expects to open one additional store in the fourth fiscal quarter of 2015, meeting its target of 27 stores in 2015.
As of November 2015, Sprouts had a strong real estate pipeline, which includes 53 approved sites and 46 signed leases for the coming years.
Article continues below advertisement
Sprouts' expansion strategy
Sprouts follows an expansion strategy that focuses on both existing and new markets. While the company targets 70% of the growth from existing markets, 30% is targeted from new markets.
Sprouts finds this to be an effective strategy for its business as it leads to strong financial returns, with existing markets offsetting the investment in new markets as new markets take longer to mature.
Sprouts versus other supermarket peers
Sprouts is a relatively smaller player when compared to other supermarket chains. By comparison, Kroger Company (KR), the largest supermarket chain in the US and one of the biggies of the current organic grocery market, operates more than 2,600 supermarkets in the US.
Meanwhile, Whole Foods Market (WFM), America's dominant organic and natural foods company, has more than 430 stores across the country. SuperValu operates 194 retail stores and more than 1,300 Save-A-lot stores nationwide. Sprouts, as noted earlier, has around 216 stores in the country but plans to expand at a 14% long-term CAGR (compound annual growth rate).
ETFs with exposure to Sprouts and peers
Sprouts Farmers Market (SFM), SuperValu (SVU), Kroger (KR), and Whole Foods (WFM) are included in the holdings of the Fidelity MSCI Consumer Staples Index ETF (FSTA). Together, these companies make up approximately 2.6% of the fund's total holdings.
Now let's look more specifically at Sprouts' recent star financial performance.